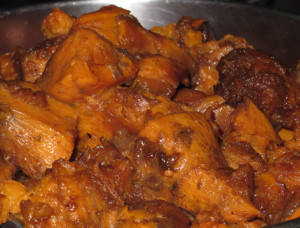 You know your Thanksgiving taters are yummy when they vanish before you get to eat them. I'm assuming they were tasty, since the pan was whistle-clean when I went for my first helping, only to be greeted by the fading fumes of molasses as a small child helped themselves for thirds, and, not coincidentally, lasts.
"Next year, kid," I plotted, "Scorched earth. Uncle Mark's making ghost pepper sweet taters. We'll see who's crying then." (Probably me. The kid's smart enough not to eat ghost pepper anything).
But that's another story that hasn't happened yet. This tale is about the molasses bourbon sweet potatoes and the mashed spuds my best friend Sam put together at barbecue Thanksgiving last year. Play your cards right, and you too can know the joy of kids demolishing the taters before you get so much as a taste of them. Play your cards SMART, like I should have, and you'll set some aside for yourself before serving the things. But I digress.
Sweet Potatoes in Bourbon Molasses Glaze
Author:
Ingredients
3-4 lbs chopped, cooked sweet potatoes or yams
1/3 cup molasses
1/4 cup bourbon
1 stick butter (melted)
chili powder (sprinkle to taste)
Instructions
Combine the glaze ingredients in a medium sauce pan and mix well. Add the chile pepper as a counter flavor to the sweetness of the molasses.
Glaze the cooked yams with the mixture, then bake, covered, at 350 degrees F for 15-20 minutes.
Roasted Mashed Potatoes with Garlic
Author:
Ingredients
5 lbs rough, chopped, peeled potatoes
¼ cup garlic
1/3 cup celery
2 ½ teaspoons salt
2 tablespoons black pepper
¼ cup granulated onion or onion powder
heavy cream (to taste)
butter (to taste)
Instructions
Wrap the potatoes in foil and grill them indirectly until they're fork tender.
Place all of the cooked veggies in a mixing bowl. Add cream and butter to taste/texture preference. Mix well.
Optional: Garnish with chopped chives and cracked black pepper.
The following two tabs change content below.
Managing Editor | Mark is a freelance journalist based out of Los Angeles. He's our Do-It-Yourself specialist, and happily agrees to try pretty much every twisted project we come up with.
Latest posts by Mark Masker (see all)