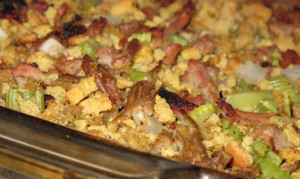 A few years back, some of our favorite food writers collaborated on a barbecued Thanksgiving on our mother site, the Fiery Foods & Barbecue Super Site. Shamelessly stealing drawing inspiration from that idea, me and mine cooked up our own take on that awesome theme. Here's the first part of that big adventure: Dr. BBQ's pulled pork stuffing and a pulled pork gravy.
Ray Lampe was one of those collaborators and his pulled pork stuffing sounded tremendous, and it was. Using Ray's pulled pork recipe from Slow Fire, I coaxed a pork butt into the concentrated heaven that is pulled pork for the stuffing. It smelled wonderful, tasted wonderful, and that's when I heard the voice calling to me from the depths of the pork's aluminum foil blanket.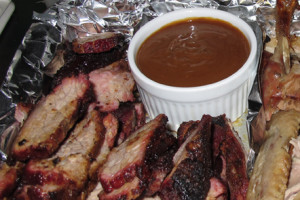 "But, Mark," it chimed in. "What about me? What about meeee?" At least, that's what I think the pulled pork drippings would've said if they could've talked. All the spices, apple juice, and pork drippings melded into a very tasty pool under the cooked beast itself. The juices had a point, though. Why throw them away like common sense at a Congressional hearing? Pulled pork gravy became my tweak to Ray's original stuffing.
Note: Since we were barbecuing sizable cuts of meat, we needed to start really early. We'd need as much time as possible for the pork shoulder, beef brisket, and turkey to get done. Thanksgiving is no joke among my crew. It's an all day affair that's organized via spreadsheet, ensuring everything comes together at pretty much the same time. Message us on Facebook and we'll send you the spreadsheet for your own use.

Dr. BBQ's Pulled Pork Stuffing
Author:
Ingredients
1/2 cup butter
2 medium onions, chopped
3 ribs celery, chopped
2 cloves garlic, minced
2 cups smoked pulled pork, chopped
2 tablespoons Louisiana hot sauce
1 teaspoon dried sage
1 teaspoon dried thyme
1 teaspoon salt
1 teaspoon finely ground black pepper
2 8-ounce packages plain cornbread stuffing
2 to 3 cups vegetable broth
Instructions
Preheat the oven to 350.
In a large skillet over medium heat, melt the butter.
Add the onion, celery and garlic and cook until tender. Add the pork, hot sauce, sage, thyme, salt and pepper. Stir and cook until the pork is heated through.
Add two cups of the broth, stir well and remove from the heat.
Put the stuffing mix in a big bowl. Pour the butter mixture over the stuffing. Toss to mix thoroughly, adding more broth as needed to moisten all the stuffing mix. Transfer to a 9 by 13 baking pan. Cover with foil and place in the oven.
Cook for 40 minutes. Remove the foil and bake for another 10 minutes.
Pulled Pork Gravy
Author:
Ingredients
Pulled pork drippings
1/4 cup flour
2-3 cups cold water
salt and pepper (to taste)
Instructions
Take the pork shoulder out of the foil.
Pour the drippings into a sauce pan. Don't you dare remove the pork bits from the drippings.
Add the flour to the pan. Stir it over medium heat until the mixture turns to a thick paste.
Add two cups of water and mix it in. Keep stirring as the gravy cooks.
Add more water if you like.
Turn off the heat once you have the desired consistency. Strain if desired.
The following two tabs change content below.
Managing Editor | Mark is a freelance journalist based out of Los Angeles. He's our Do-It-Yourself specialist, and happily agrees to try pretty much every twisted project we come up with.
Latest posts by Mark Masker (see all)