Every Thanksgiving millions of American cooks turn into the Bubba Blue of poultry, minus Forrest Gump as a best buddy.
That's what happens when you cook a 20 lb turkey for a family of four and a crazy uncle or two. Thanksgiving leftovers are a unique blend of challenge, art form, tradition and gluttony. I usually go for the classic melange of meat, taters, gravy, stuffing, and cranberry sauce twixt two slices of bread, but this year, I'm branching out with turkey enchilada hot dish.
Those first two items you're probably familiar with but hot dish is what Minnesota's signature move would be if it were a Mortal Kombat character instead of a state.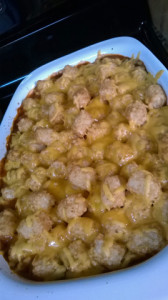 I've recently fallen in love with the stuff, so expect to see a few more variations of it here in the blog. In a nutshell, it's a meat and veggie casserole topped with tater tots and cheese. This go-around, I'm starting with a very simple enchilada take on the stuff. Here goes.
Turkey Enchilada Hot Dish
Author:
Ingredients
1 lb chopped or ground turkey
1 packet enchilada sauce mix
1 cup chopped onion
1 cup chopped bell pepper
1 finely chopped jalapeno
1 lb tater tots
1 lb grated pepper jack or Monterrey jack cheese
Instructions
Preheat the oven to 350 degrees F.
Cook the turkey in a skillet if not using leftovers. If so, heat it up.
Mix up the enchilada sauce per the instructions on the packet.
Mix the meat, sauce, and veggies in a 13×9-inch baking pan. Spread the tots over the top.
Put the pan in the oven and cook for 30 minutes.
Spread the cheese all over the top.
Return it to the oven for 5-10 minutes.
Remove and pig out.
Take nap.
The following two tabs change content below.
Managing Editor | Mark is a freelance journalist based out of Los Angeles. He's our Do-It-Yourself specialist, and happily agrees to try pretty much every twisted project we come up with.
Latest posts by Mark Masker (see all)