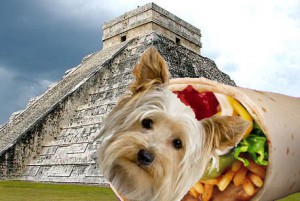 Listen up, little dogs. All of you spoiled little chihuahuas, toy poodles, and terriers have had it too good for too long. Sitting at the screen door, barking at everyone, day in, day out, it's a poor choice for a life path. You're so lucky you don't have it like your ancestors did. Four hundred years ago, Mesoamerican people kept you little yappers to complement cooked veggies instead of handbags.
I mention this because I want to help. It really is in your best interest to shut up and behave. Yes, I know. The squeaky wheel gets the greasin'. It's also the first to go when food prices soar too high.
Still don't believe me? I didn't think you would, what with those teal bows cutting off the circulation to your brain. That's why I dug up an old Mayan turkey tamale recipe. I'm not saying they did it to dogs too, but, well, you were their other domesticated food animal of choice. There but for the grace of God (and the SPCA) go you.
Mayan Turkey Tamales (from the Legacy Program at the University of Texas at San Antonio's Center for Archaeological Research)
4 cups turkey broth
6 2/3 cups masa harina
1/3 cup solid turkey fat
6 2/3 cup shredded cooked turkey
1 teaspoon achiote
Salt, to taste
1 cup tomato, chopped
1 large onion, finely chopped
2 sprigs of epazote (optional)
Habanero chile, to taste, minced
Corn husks, soaked for an hour in hot water to soften
Boil the broth with 1/2 teaspoon achiote, a dash of salt, and a little bit of the masa harina for thickening. This broth will moisten the tamales. For the tamale dough, mix the masa with the turkey fat, salt, and achiote. Put some of this corn dough on top of a corn husk and flatten it out. Mound on top of the dough a scant 1/3-cup of turkey, and bathe the meat with a spoonful of broth. Alternate layers of onion, tomato, chile, and epazote, and bathe with a bit more broth.
Using the edges of the corn husk to help you, wrap the dough around the filling and seal it. Tie the corn husk into a tight packet, using thin strips of husks for string on either end. Repeat until you have the desired number of tamales. To cook, place the tamales in a steamer unit over a pot of simmering water. Cook until cooked through – about 15 minutes.
Heat Scale: Medium to hot
Serves: Makes 24 tamales
I didn't want it to come to this. I love dogs as pets but you've left me no choice. Let's face it. You've gone soft, little canines. The sort of well-marbled, juicy soft that cooks up wonderfully on a grill or in a crock pot. It's too late for your ancestors, but you can still save yourselves. Lose the insecurity and come into the light.
The following two tabs change content below.
Managing Editor | Mark is a freelance journalist based out of Los Angeles. He's our Do-It-Yourself specialist, and happily agrees to try pretty much every twisted project we come up with.
Latest posts by Mark Masker (see all)