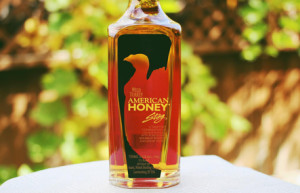 It's been quite and adventure exploring the hot-and-spicy liquor landscape exclusively for the Burn! Blog. To my surprise, I've been able to perfectly time this particular review with the public retail release of a brand new liquor from Wild Turkey: American Honey Sting, which is being introduced nationally this winter.
Wild Turkey was pretty early to the honey whiskey game in comparison with many of their competitors. In fact, American Honey (the original version) has been on shelves for at least 6 or 7 years, and during that period Jack Daniels and Jim Beam have both entered the honey whiskey space too.
The original version of American Honey is thick, though not unusually sweet, thanks to the 35% alcohol behind the flavoring. The new Sting variety, though, does something original again, in the same way the original led the honey whiskey charge. To read up on other brands of honey whiskey, I covered several at Simple Cocktails late last year.
Now it's time to discuss the trailblazing ingredient in American Honey Sting – the sting itself: ghost pepper. Wild Turkey has added a Burn! Blog approved ingredient for us all to try out, though as we've learned through many others in this series, adding chiles is not always done with great results.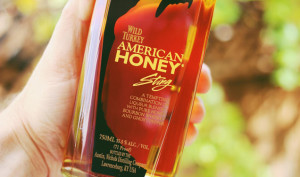 I'll cut to the chase, though: Wild Turkey has nailed it. The balance between bourbon, honey, sugar, and spice is dead-on. The ghost peppers enhance the usual burn that you experience drinking whiskey in a way that I'd describe as a warming that fills your throat as you swallow, coupled by a little tingle on the tip of your tongue.
It's still sweet, yes, but the peppers tone that down a tad, and really, this is a liquor you can easily sip on the rocks by the fire this winter.
So bravo to Wild Turkey for managing to do what many liquor companies could not: they've incorporated hot chile into a spirit that allows the drink to remain tasty and enjoyable. Once it hits the shelves of your local liquor store, go grab a bottle (it runs right at $20) and see what you think.
Greg Mays is the Managing Editor of www.simple-cocktails.com.
The following two tabs change content below.
Publisher | Christened the "Pope of Peppers" by The New York Times, Dave DeWitt is a food historian and one of the foremost authorities in the world on chile peppers, spices, and spicy foods.
Latest posts by Dave DeWitt (see all)