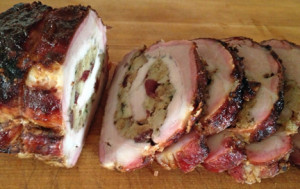 You don't want turkey or even turducken – a turkey stuffed with a duck and a chicken – for Thanksgiving but you want a spectacular meal. How about a pork loin roast? Because it is for Thanksgiving let's keep some of the classics and stuff the loin with apples and dried cranberries. Serve with prosciutto wrapped asparagus.
Apple and Cranberry-Stuffed Pork Loin
Cuisine:
Thanksgiving-ish
Author:
Ingredients
1 (two-pound) trimmed, boneless pork loin roast
Coarse smoked kosher salt
Freshly cracked smoked black pepper
Pork rub
For the stuffing:
1 (six-ounce) package Stove Top Savory Herbs stuffing mix
1 tablespoon unsalted butter
1/2 cup peeled and diced apple
1/2 cup dried sweetened cranberries
1/2 teaspoon freshly ground black pepper
1/2 teaspoon dried thyme
1/2 teaspoon dried minced garlic
1/2 teaspoon dried minced onion
Instructions
Prepare the stuffing according to the package directions. (You'll have more stuffing than needed. Reserve it for future use or serve on the side.)
Heat a small sauté pan over medium heat and add the butter. When the butter stops foaming add the apples and sauté until softened, about four minutes. Add the cranberries, pepper, thyme, garlic and onion. Cook briefly while stirring being careful not to burn the onion or garlic.
Transfer to a mixing bowl and add the stuffing. Stir well to combine. Refrigerate until cooled completely.
Roll cut the pork loin and cover with plastic wrap. Using the flat side of a meat pounder, lightly pound the loin to an even thickness.
Season the inside surface with salt and pepper. Add a layer of stuffing (about 1/2 cup) on one side of the loin and roll the loin closed by one-third. Add more stuffing (another 1/2 cup or so) and continue rolling until formed into a log. Use butcher's twine to secure the loin.
Season the loin with your favorite pork rub.
Prepare the cooker for 225 degrees F. indirect cooking using apple wood or whatever fruitwood you prefer. (I use apple wood pellets in a Yoder YS640 and cherry pellets in an A-Maze-N tube smoker for some added flavor.)
Smoke/ cook the loin for about one hour per pound or to an internal temperature of 150 degrees F. Remove the loin from the cooker, tent with aluminum foil and allow the roast to rest for ten minutes before slicing.
Grilled Asparagus with Prosciutto
Author:
Marinated in zesty Italian dressing, wrapped with prosciutto and seasoned with crushed red pepper flakes, smoked salt and smoked pepper, grilled asparagus is a great vegetable that pairs well with many entrees. Finish the asparagus with a drizzle of reduced balsamic vinegar.
Ingredients
1/2 pound medium-size fresh asparagus spears (about 12 spears)
1 cup zesty Italian dressing
1/2 pound thinly sliced prosciutto
1 tablespoon crushed red pepper flakes
Coarse smoked kosher salt
Freshly ground smoked black pepper
Instructions
Trim the woody ends off of the asparagus and place the asparagus in a shallow dish. Add the Italian dressing and toss to coat. Marinate for about 30 minutes. Drain the asparagus and wrap a bundle of three or four spears with prosciutto.
Preheat the grill for medium-high direct grilling. Grill the asparagus for four minutes turn and cook another two to three minutes or until the asparagus is tender and the prosciutto is crisp. (The asparagus could also be cooked under a broiler.)
Remove the asparagus from the grill and season with crushed red pepper flakes, salt and pepper. Drizzle with the vinegar.
Balsamic reduction
Author:
This concentrated and thickened balsamic vinegar is perfect for drizzling on salads, fruit and vegetables. High-quality (and expensive) balsamic vinegar Aceto Balsamico Tradizionale is made by aging cooked white Trebbiano grape juice in wooden casts for 12 to 30 years. The aging process is done inside barrels of successively smaller size with different kinds of wood, such as juniper, chestnut, mulberry and oak. Less expensive (and most domestic) varieties are made with red wine vinegar and coloring to mimic the classic balsamic.
Ingredients
2 cups medium-quality balsamic vinegar
2 cloves garlic, peeled and chopped
2 sprigs fresh thyme
Instructions
Place the balsamic vinegar, garlic and thyme in a small saucepan or skillet and cook over medium-low heat until the vinegar has reduced by at least half (about 30 minutes). For a thicker glaze-type sauce cook until the vinegar is reduced to 1/2 cup, another 30 minutes or so.
As soon as the reduction reaches the desired consistency, remove it from the heat, and let it cool. It will thicken as it cools. Strain and transfer to a container.
The following two tabs change content below.
Grilling & BBQ Editor | Mike holds a "Doctorate of Barbeque Philosophy" (Ph.B.) degree from the Kansas City Barbeque Society. His book Mastering Barbecue has been called the "go-to" book for BBQ knowledge.
Latest posts by Mike Stines (see all)