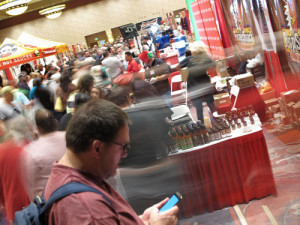 Much like Godzilla, the National Fiery Foods Show has gone back to sleep after wreaking a little havoc. Both show up briefly, set things ablaze, and then leave. Both take place in cities with great food. Both have made at least 26 appearances.
Only one has an actor in a foam costume, though.
Fun revved up to full throttle at the Sandia Resort on Friday, March 6. I think this year's show was more about experimentation than the previous shows I've attended. Superhots weren't the big buzz this year. Either Ed Currie set the bar too high with his Carolina Reaper pepper or superhots are losing their new car smell. To me, the 2015 show was more about new directions and flavors of heat.
CaJohn Hard, Overkill Sauces, Zane & Zack's, and some of the other vendors offered up mango hot sauces, a heatless habanero sauce, candied jalapenos, and even a Carolina Reaper cream cheese. Fruit-based salsas and blueberry hot sauce were on display and personally, I can't wait to put all of them through the culinary wringer in the coming weeks. I'm not sure how the general public responded to these new offerings yet, but we'll see. Mixing fruit and heat isn't a new idea. I just haven't seen the concept as prevalently as at this year's show.
On the demo side, Chef Matt Yohalem fired up the blow torch for a heat-filled how-to on duck, ham, and spicy pasta. Our own cocktail Yoda Greg Mays gave two fun tequila lessons this year. Not the usual break down of what's what, but how to actually use the stuff in various drinks, including his own Breaking Bad cocktail. Tim Ziegler followed with an in-depth class on all things spices and herb. Chefs Ethan Diness and Troy Garrett  batted clean up with barbecue beef and Bloody Mary demonstrations as well. Ethan managed to get blues guitarist Chris Dracup to close out the show with great music during the barbecue feeding.
Which isn't to say the show is really over. I have plenty of products to review for you, follow up stories planned over the next week spotlighting some of the vendors, and the 33 picture gallery below, too. Just click the images to enlarge. Will that tide you over until next year?
The following two tabs change content below.
Managing Editor | Mark is a freelance journalist based out of Los Angeles. He's our Do-It-Yourself specialist, and happily agrees to try pretty much every twisted project we come up with.
Latest posts by Mark Masker (see all)