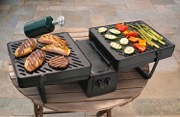 I have a lot of grills and smokers – I mean really a lot. I recently received something new that I didn't have: a portable "Elevate Grill" by PointElevate. I've used the throw-away kind (the one that looks like a large aluminum turkey pan that is pre-filled with charcoal) at the pond for an impromptu cookout but the Elevate Grill is a real grill with two cooking surfaces powered by a small propane tank.
I like the grill and would suggest its purchase but one of the potential shortfalls is that the 16.4-ounce disposable propane tank only lasts about 90 minutes with both burners in use. That's enough time to cook a meal but it leaves no reserve for future use. So if you're going camping for a few days you'll need extra tanks. The company is developing an adapter so larger tanks may be used.
The cooker is light weight, clocking in at 24 pounds so it's good for car camping or taking to the beach; not so good for backpacking.
The grill produces about the same heat as a residential stove – around 14,000 BTUs – so it's easy to use home recipes on the road without the need to adjust cooking times or temperatures.
Fitted with porcelain-enameled cast iron grates the cooker features a 286 square inch cooking surface (about half the size of a full-size grill). The dual cooking surfaces have individual burner controls and electronic ignition. The company says the grill will handle 18 hamburgers or 12 steaks. If hot dogs are on the menu, the grill will cook 36 at the same time.
The two removable grease trays are dishwasher safe and a grate removal tool is included. Optional griddle plates are also available at $39.99 giving a user a 143-square-inch flat surface.
At $250 the Elevate Grill is not inexpensive but it is well-built and sturdy. The unit carries a one year warranty on parts and a three-year warranty on the burners.
If you are interested in the Elevate Grill, checkout their Kickstarter campaign where the company is attempting to raise $50,000 to swing into full production and distribution. Follow them on Facebook for the latest updates on where they are with the campaign.
The company says it will begin shipping the new grill in June if the Kickstarter goals are met.
The following two tabs change content below.
Grilling & BBQ Editor | Mike holds a "Doctorate of Barbeque Philosophy" (Ph.B.) degree from the Kansas City Barbeque Society. His book Mastering Barbecue has been called the "go-to" book for BBQ knowledge.
Latest posts by Mike Stines (see all)