This week's Hot News is pretty heavy on the barbecue side, from a trans-fat ban to your worst day's grilling ever.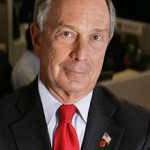 Fat Chance
Say goodbye to trans-fats. Michael Bloomberg banned them from restaurant food when he was mayor of New York. Now the FDA is upping the ante by making the ban a national thing. You can find out more here but don't worry. There are still plenty of ways for you to clog your arteries if you like.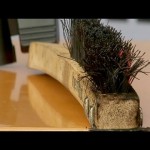 The Wire
Usually, a trip to the ER after eating a grilled burger means bad food or possibly dirty grates. Speaking of which, you may want to take roll call of the bristles in your grill brush next time you scrape the grates (or just buy a new one when the old brush looks hagged out). Connecticut resident Cheryl Harrison suffered nasty stomach pain two days after eating a grilled burger. Doctors discovered the thin wire bristle from a grill brush in her intestine was rushed to the emergency room with extreme stomach pain two days after eating a grilled burger. Emergency surgery took care of the problem, though.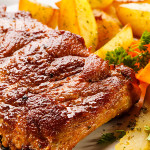 Rib Job
Screw winning a big barbecue competition. You really want to know when you've made the best ribs ever 'cued? When one woman stabs another over the last succulent rib that just came out of your smoker. A Muncie, Indiana woman stabbed another one with a fork upon discovering the victim had eaten the last rib in the kitchen. I'd never put violence on someone over food, but I can sympathize. Ribs is good eatin.'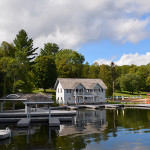 Canadian Bakin'
Fine, there's no baking involved in this barbecue blurb but that was the best pun I could come up with right now. Port Cunnington Lodge & Resort in Muskoka, Ontario is hitting a tremendous milestone this year: 125 years in business, all under the same name. They're celebrating with a huge charity barbecue on July 16.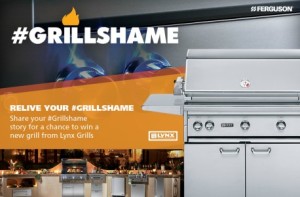 The Shame Game
Earlier this week, Ferguson Bath, Kitchen & Lighting Gallery kicked off its Instagram and Twitter promotion, #GrillShame. Either tag your photo of your worst grilling moment #GrillShame and post it, or upload it and information to the photo contest page. The contest goes until June 19 and the selected grand prize winner gets a 36-in. Freestanding All-Sear Grill with Rotisserie from Lynx Grills. The contest runs through Friday, June 19.
The following two tabs change content below.
Managing Editor | Mark is a freelance journalist based out of Los Angeles. He's our Do-It-Yourself specialist, and happily agrees to try pretty much every twisted project we come up with.
Latest posts by Mark Masker (see all)