Christmas is a week away but there's still plenty of time to shop for me that special griller/pitmaster/chilehead in your life. Here are 7 suggestions they'd love to find wrapped up under the tree Christmas Day.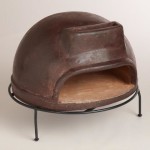 Terracotta Pizza Oven
$99
Create wood-fired pizzas at home with this handmade terracotta pizza oven, designed for outdoor use or to fit safely into your home wood oven. When using outdoors, burn dry wood at the back of the oven and it will be ready for baking in just fifteen minutes. Keep the fire burning at around 660 degrees F to bake pizza after delicious pizza.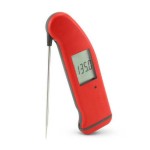 Thermapen Mk4
$99
The Thermapen Mk4 features a patented auto-rotating display, motion-sensing sleep & wake mode, and intelligent backlight. It's waterproof to IP67 and has a 3,000 hour battery life (AAA Battery). It gives 3-second readings and is accurate to ±0.7°F (±0.4°C). It's available in 10 colors.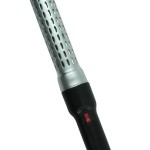 Looftlighter
$75-$100
The Looftlighter is an electric starter that heats charcoal or dry wood on the quick. It makes 120V/1500W of power and has three power setting switch (Off-Cool-Hot). It's recommended for BBQ grills, fireplaces, bonfires, stoves, and more. It makes charcoal barbecue preparation quick, clean, safe and easy, without the need for lighter fluids. Looftlighter is an environmentally friendly development that removes the usage of lighter liquid, ignition dices (focused lighter fluid) and all other type of dangerous chemicals when lighting your charcoal cookout or hearth fire. Its plug-in cord is 9 feet long, giving you plenty of distance from a wall outlet or generator.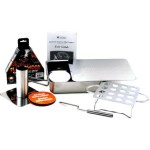 Cameron's Products BBQ Blast Bundle #2
$85.99
The Blast Bundle is a mixed bag that sounds like the start of a "they walk into a bar" joke: a chile roaster, a beer chicken stand, and a mini smoker. This bundle also includes three Flavorwood cans in Apple, Hickory, and Mesquite. Constructed from durable stainless steel, the gourmet mini smoker lets you smoke your favorite foods on the stove or the campfire. The Flavorwood cans create mess-free smoke for your barbecue grill. What I like about it this kit is that it gives a griller a trio of specialty items in one fell swoop.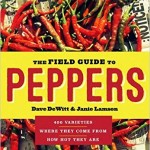 The Field Guide to Peppers
$18.83
In this fiery guide, Dave DeWitt and Janie Lamson help you identify hundreds of the most popular chile pepper varieties. The 400 profiles include all the major types of peppers and are packed with information on culinary use, interesting facts, and chile nomenclature. Photos of each variety make for easy identification. Includes popular varieties such as ancho, bell, jalapeño, and New Mexican. Each entry gives the cultivar name, origin, pod size and color, plant height, days to harvest, and heat level.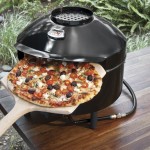 Pizzeria Pronto Outdoor Pizza Oven
$299
Measuring in at 19.5×12.20×18.7 inches, this outdoor pizza oven is very portable and great for tailgating, camping, and picnics. It reaches a cooking temperature of up to 700F in only 10 minutes. The Pizzeria Pronto supposedly cooks a pizza in 5 minutes and is immediately ready for another pizza afterward.

Huntspoint BBQ Competition Grade Gold Wagyu Brisket
See website for Pricing
Huntspoint.com Gold Wagyu Brisket has the highest marbling score 8+. It's a competition Grade Brisket from wagyu cattle, ranging anywhere from 7 lbs to 21 lbs. Huntspoint.com's Wagyu beef brisket is truly one of the most popular cut within the Huntspoint BBQ meat collection. You can also get a $100 gift card and let the recipient choose for themself.
The following two tabs change content below.
Managing Editor | Mark is a freelance journalist based out of Los Angeles. He's our Do-It-Yourself specialist, and happily agrees to try pretty much every twisted project we come up with.
Latest posts by Mark Masker (see all)