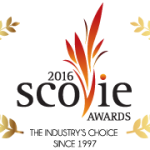 We are now accepting entries for the Early Bird Special section of the 2016 Scovie Awards Competion. From now until July 29.
Continue reading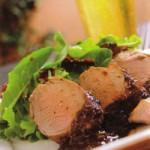 The technique of soaking a food in a liquid to flavor--or in the case of meats, to tenderize the cut--was probably brought to the Caribbean by the Spanish. A marinade is easier to use than a paste, and when grilling your jerk meats, the marinade can also be used as a basting sauce. "In Jamaica," notes food writer Robb Walsh, "like Texas barbecue, jerk is served on butcher paper and eaten with your hands." Serve this version of jerk with a salad and grilled plantains.
Continue reading
The key to preparing salmon this way is to make certain that your smoke is rather cool, about 100 degrees. If it is warmer, decrease the smoking time. This recipe takes a fair amount of time, but most of that is spent waiting rather than working. The selection of sauces served is up to the cook, so feel free to experiment. A horseradish sauce will work also. The salmon can also be served on bagels, as pictured here. Note: This recipe requires advance preparation.
Continue reading