By José C. Marmolejo
Editor's Note: My longtime friend José lives in Mexico City and will be writing a series of chef profiles for the Burn Blog.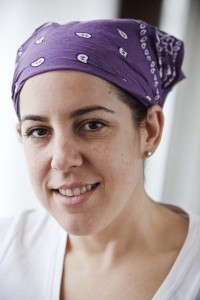 Fany Gerson can be described as someone whose passion is to create and share. She's someone who establishes a bond with the people she meets on her research trips. Needless to say, it's very easy to talk to her—provided she can find the time.
Before falling in love with New York City, she fell in love with food. Fany traveled periodically to The City in her childhood, and was permanently impressed with all the realms of food art she discovered. It was at a very early age that she decided to live there. The "what" was solved, the "how" was missing. But her education would find the "how."
Her formal food education consisted of two years in Mexico City and two years at The Culinary Institute of America at Hyde Park, New York, followed by a close to a year internship in Spain. She started working in NYC in 1997 at 11 Madison Park, a well known French-American restaurant and 20 years later she finds herself using her feet, her bike, a shared cab, her automobile or the subway–all depending on circumstances and weather–to move around working her two businesses: Dough and La Newyorquina.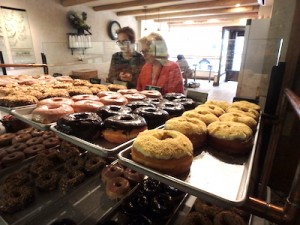 Dough–in the Flatiron District–produces exquisite donuts with traditional, European, and Mexican flavors. Opened in the winter of 2010, it's a place that produces small batches all day long and smells like an old Mexican bakery when you walk in. It's a place where you see people using a knife and a fork but also licking their fingers. I personally licked my fingers with the "Dulce de Leche Almonds" flavor but you can try Hibiscus, Passion Fruit or Mocha Almond Crunch, and will do the same. I can't write about this experience without sounding like a commercial.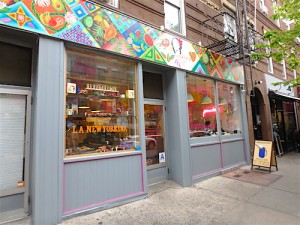 Now let's walk to La Newyorkina. On any summer day in Mexico you can find small carts in the street selling paletas or ice pops of every tropical fruit flavor you can imagine. Kids rush to their mothers and ask for small change to purchase the much needed treat in a hot day—a treat that is seldom denied. It can produce nostalgia to some to see those little carts far from home and that's what happened to me when I saw one inside my favorite coffee shop: Brooklyn Roasting Company. It was then when I decided to learn more about La Newyorkina. After a very nice walk of three-quarters of a mile from Dough on Flatiron, we find the best Paletas in Manhattan near Washington Square Park along with an array of other Mexican treats. Chamoyadas, Pan de Dulce, Mexican cookies, and Oaxacan Chocolate. The best descriptions wouldn't do justice to these confections and would sound like a commercial again.
But before Fany got to this point, she had to work as a pastry chef, a private Chef, and a specialty store chef for a few years. It wasn't until 2010 when things began to turn her way. Dreaming of sharing those Mexican delicacies, she opened La Newyorkina in the summer of 2010. It was a busy year because her first book was published at the same time: My Sweet Mexico: Recipes for Authentic Pastries, Breads, Candies, Beverages, and Frozen Treats. The book was followed by the opening of Dough in the winter. What a year!
Twenty-eleven was not a slow year, either. Running two businesses and publishing her second book: Authentic Recipes for Mexican Ice Pops, Shaved Ice & Aguas Frescas made that time really fly. But since not everything goes right ever, in 2012, hurricane Sandy was responsible for flooding La Newyorkina's kitchen in Brooklyn. A setback indeed, but nothing Fany and her crew couldn't overcome.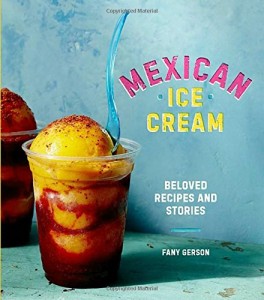 Today, there are two doughnut stores with retail and wholesale customers, two La Newyorkina stores (open year-round), and six seasonal Paletas points of sale. One interesting hybrid concept in the Astor Place store emerged: donuts, chocolate from Oaxaca and Tlaxcala, and Mexican Paletas! This year (2017), Fany is also publishing her third book: Mexican Ice Cream: Beloved Recipes and Stories. A must have. So, I asked her, how did all this happen?
"With hard work and honesty," she replied, "Realizing that what you do is bigger than you and your organization."
"Are you successful?" was my next question.
"To some people, I'm successful, but I measure success by doing what I like and the impact it creates. Even though financial success is important and necessary to survive, it is not our goal."
"What's the most important thing you've done?" I pressed.
"Creating more than 120 jobs–plus some others seasonally–and keeping them going."
She also told me that she wants to make products that will be relevant for her community, products that taste good, products that respect nature, and products that create well being for all her stakeholders, customers, employees, suppliers, and neighbors.
"Your final thoughts, Fany?"
"Our success is based on getting married with our ideas," she said. "We cannot lower our guard." And finally, "Mexico es lo maximo!"
Fany's Strawberry Ice Pops
(Makes 8 to 10)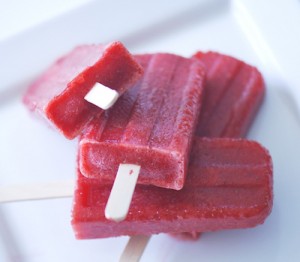 4 cups fresh strawberries, preferably wild, hulled and cut into quarters
3/4 cup sugar
1/2 cup water
2 tablespoons freshly squeezed lemon juice
Combine the strawberries and sugar in a bowl. Let sit until the strawberries start releasing their natural juices, 20 to 30 minutes. Place in a saucepan with the water over medium heat. Simmer until they are slightly softened, about 5 minutes. Let cool to room temperature.
Transfer the mixture to a blender or food processor, add the lemon juice, and puree until smooth; alternatively, you could leave some chunks in if you like.
If using conventional molds, divide the mixture among the molds, snap on the lids, and freeze until solid, about 5 hours. If using glasses or other unconventional molds, freeze until the pops are beginning to set (1 to 2 hours), then insert the sticks and freeze until solid, 4 to 5 hours. If using an instant ice pop maker, follow the manufacturer's instructions.
The following two tabs change content below.
Latest posts by José C. Marmolejo (see all)