By José C. Marmolejo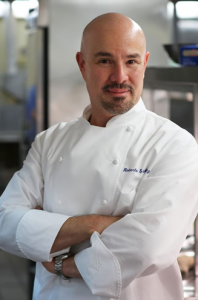 In 1996 the Mexican economy was in the toilet. Unmanageable foreign debt, inflation, and capital expatriation resulted in a major devaluation of the currency and a new economic crisis made its way into people's pockets. But not everything was bad news. Roberto Santibañez, a young talented Mexican chef, received an invitation from Josefina Howard, chef, restaurateur and author, then owner of Rosa Mexicano (said to be the best Mexican Restaurant in NYC) to become her right hand man in New York.
That was the beginning of one of many success stories we hear about Mexican chefs who migrate to the U.S. in search of economic opportunity in one of the most competitive markets. But to succeed, you have to be more than just good.
While Roberto learned the complicated intricacies of running a big restaurant and dealing with many different personalities, one recommendation was always in his mind: "We should always cook for ourselves." This was Josefina's philosophy. And how simple and certain that could be! If you are a good cook who knows your cuisine, you should always remain loyal to it and avoid catering the taste of others. Not exactly an American customer service recommendation, but however arguable, this beautiful piece of advice became the cornerstone of Roberto's success.
It's in 1997–after Roberto had made a name for himself in the U.S.–that he received an invitation from Austin, Texas to become the Executive Chef at Fonda San Miguel, one of the best Mexican restaurants in the U.S. Long workdays became the rule, nothing foreign to him, but after some time they took its toll. By 2001, Roberto felt he needed a break. He felt he needed time to take stock, and Mexico City looked close and very attractive. He moved back to Mexico and started a consulting business.
During my interview with him, I could not fail to notice how his mind was running through the process of recounting all his vicissitudes. My questions are simple but his eyes change from nostalgia to excitement to deep reflection. He wants to tell it all; he wants to remember everything but for his own enjoyment above all.
Again, in 2002, another call from New York. Rosa Mexicano offers Roberto the job of Culinary Director, where he contributes with his culinary expertise to the growth of the company from two to six restaurants in five years. His efforts culminate with the publishing of his first book: Rosa's New Mexican Table: Friendly Recipes for Festive Meals.
Beginning in 2008, Roberto decides to go off on his own. He devotes his time to consulting, and planning his next venture. It wasn't until 2009 that Roberto finally opens his own concept: Fonda. First at Park Slope, followed in 2011 with the opening of Fonda at East Village and the publishing of his second book: Truly Mexican: Essential Recipes and Techniques for Authentic Mexican Cooking. The following year finds him opening his third restaurant, Fonda at Chelsea, and publishing his third book: Tacos, Tortas, and Tamales: Flavors from the Griddles, Pots, and Streetside Kitchens of Mexico.
It has certainly been a combination of a long and a fast race. Think of a marathon and a 100-yard dash at the same time. With no retirement plans on the drawing board I shoot him the last questions: What does it take? Discipline in a "yes" country. Would you do it again? Without a doubt! Next project? A 300-seat restaurant in Washington, D.C.
Buena suerte Roberto!!!
Chopped Fried Fish Tacos
(Tacos de Salpicón de Pescado)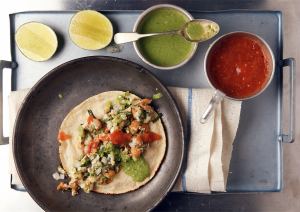 Take fried fish, break it up, and douse it with lime juice, Worcestershire sauce, chiles, and
cilantro, and you have an incredible jumble of textures and flavors. Because you hack the fish
into bits, there's no need to find perfect-for-presentation fillets, so this is a great way to use those
that aren't flawless, as long as they're fresh.
For the fish:
1 pound skinless boneless cod, flounder, or tilapia fillets, cut into approximately 3×1/2-inch strips
3 tablespoons freshly squeezed lime juice, plus more to taste
1 teaspoon kosher salt
1 recipe Frying Flour (see below)
Canola or vegetable oil for frying
1 cup finely diced white onions
1 cup chopped cilantro
2 fresh serrano or jalapeño chiles, finely chopped (including seeds), plus more to taste
5 teaspoons Worcestershire sauce
2 tablespoons extra-vrigin olive or vegetable oil
Put the fish in a large bowl, add 1 tablespoon of the lime juice and the salt, and toss well. Put the
frying flour in another large bowl, add the fish, and toss very well to evenly coat the fish.
Pour 3 inches of canola oil into a Dutch oven or medium pot and heat the oil over medium-high
heat until it reaches 375°F on a deep-fry thermometer. Working in batches to avoid crowding the
oil, shake off a little flour from the fish, then add the fish to the oil and fry until the pieces are
lightly golden brown and crispy, about 2 minutes per batch. Transfer the fried fish to a paper
towel to drain.
When the fish is just cool enough to handle, put it in a large bowl and add the onions, cilantro,
chiles, Worcestershire sauce, olive oil, and the remaining 2 tablespoons of lime juice. Toss and
mix well with your hands or a spoon, breaking up the strips into small pieces as you do. Season
to taste with more lime juice, chiles, and salt.
Serve alongside 16 warn corn tortillas and lime wedges and top with slices of ripe Mexican Hass
avocado or crema and Fresh Green Salsa (see blow).
Makes 16 tacos
Frying Flour
(Harina Para Freír)
A great all-purpose mixture for whatever you're frying, be it chicken cutlets for tortas or fish for salpicón.
1 cup all-purpose flour
4 teaspoons arbol chile powder or chipotle powder
1 tablespoon dried Mexican oregano, crumbled
1/2 teaspoon ground cumin
1 tablespoon kosher salt
Combine the flour, chile powder, oregano, cumin, and salt in a large bowl, and mix very well.
Make ahead: The flour keeps in an airtight container stored in a dry, dark place for a few weeks.
Makes a generous cup
Fresh Green Salsa
(Salsa Verde Cruda)
Tart and fiery, this classic bright-green salsa shows off the flavor of tomatillos and the lovable
grassy sharpness of fresh unripe chiles. Serve it with anything that would benefit from lively
contrast, such as rich Carnitas Tacos.
1/2 pound tomatillos (5 or 6), husked, rinsed, and coarsely chopped
1/2 cup coarsely chopped cilantro
2 fresh jalapeño or serrano chiles, coarsely chopped (including seeds), or more to taste
1 large garlic clove, peeled
2 tablespoons chopped white onion
1 1/2 teaspoons kosher salt
Put the tomatillos in a blender first, then add the remaining ingredients. Pulse a few times, then
blend until the salsa is very smooth, at least 1 minute. Season to taste with additional chile and
salt, and blend again.
Avocado Power!
Want a more velvety version with the same thrilling flavors? Just double the amount of chiles,
bump up the salt by 1/2 teaspoon, add 1/2 cup water, and scoop in the flesh of a large, ripe Hass
avocado before you blend.
Makes about 2 cups with the avocado
The following two tabs change content below.
Latest posts by José C. Marmolejo (see all)