Pumpkin spice does have its time and place; neither of which are in my dinner or anywhere near my tortilla chips. At least, that's what I thought until I ate Mrs Renfro's Pumpkin Salsa.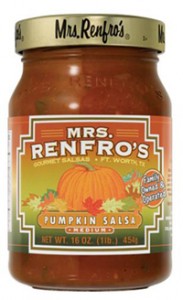 It's flavor is pretty well balanced and there's definitely a touch of Thanksgiving about this stuff and its sweet after kick. That said, it's also most definitely a salsa, not some funky hybrid cooked up by two drunk college kids who were bored and drunk one night.
If you're thinking of bringing a Southwestern vibe to the fall holidays, this pumpkin salsa would be a great place to start because it really bridges the gap between the two cuisines. I'd also recommend it for flavoring a soup. That's not what I did for my test, though.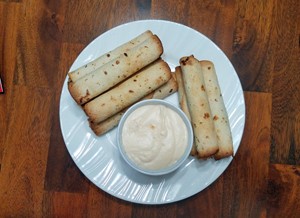 No, Guinea pig honors fell to these pulled pork taquitos and pumpkin salsa queso, which benefited pretty well from the mix of pumpkin in a salsa. But don't get the idea I've opened the mental floodgates to pumpkin spicing everything. I see you eyeing that pizza sauce, Domino's. Don't even think about it or I'll kick you right square in the Noid.
For you kids at home who have no idea what the Noid is, well, Google it. I'm here to talk about spicy food, not educate you on obscure `80s pop culture references.

Combine the pulled pork, cheddar cheese, softened cream cheese, and salsa in a bowl.

Spoon 2 tablespoons of that mixture on the half the tortilla closest to you, then roll tightly starting with that side. Do that over and over until you've filled the desired amount of taquitos.

Place the taquitos on a cookie sheet, brush the tops of them with vegetable oil, and bake for 15-18 minutes.
During the last five minutes of cooking, melt the butter in a medium saucepan over medium heat.

Stir in the cornstarch thoroughly, then stir in the sour cream.

When the mixture becomes hot and bubbly, mix in the cheese and salsa. Continue stirring until the cheese has melted and the mixture begins to thicken. Serve it hot.
The following two tabs change content below.
Managing Editor | Mark is a freelance journalist based out of Los Angeles. He's our Do-It-Yourself specialist, and happily agrees to try pretty much every twisted project we come up with.
Latest posts by Mark Masker (see all)