Masterbuilt says I shouldn't use wood pellets in my electric smoker but since rules are for bitches and people with common sense, I ignored that and put Kingsford Wood Pellets right into it. How? By smoking four sugar pumpkins in it per my annual autumn experimentation.

In this case, ignoring the directions was a pretty good idea. Wood pellets worked just fine in my ME30 smoker; from what I've read, the main concern Masterbuilt has seems to be with liability issues over the pellets catching fire if you put them in incorrectly. If you just load a small amount of them into the chip tube and put them like you normally would with chips, it works just fine.
In fact, I'm actually digging the Kingsford pellets a lot more than wood chips. I seem to get a much cleaner smoke and I don't need nearly so much refill, so often, to get that sweet smoky aroma going (10-20 pellets an hour worked great).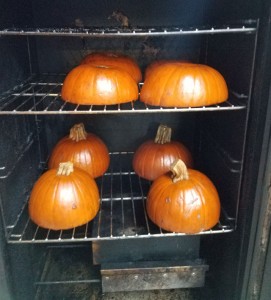 After 2 1/2 hours at 230 degrees F, all four pumpkins were perfectly smoked and ready for this year's experiment: smoked pumpkin butter. I'll share that recipe when it's done but for now, here's what I do for
maple smoked pumpkin pie
.
The following two tabs change content below.
Managing Editor | Mark is a freelance journalist based out of Los Angeles. He's our Do-It-Yourself specialist, and happily agrees to try pretty much every twisted project we come up with.
Latest posts by Mark Masker (see all)