The Homping Grill attempts to solve a problem you never knew you had: all that darn smoke smelling up the place when you grill food. Yes, thanks to this technomarvel which promises to do for grilling what vaping does for tobacco, gone are the days of smoky goodness wafting from meat as it sizzles to perfection on your grill.
In this segment, Esther Choi takes the Homping Smokeless Grill out for a test drive. She was not impressed and if you watched it, neither were you. At least, I wasn't. The Homping in the video lived up to its hype like a porn actor with erectile dysfunction.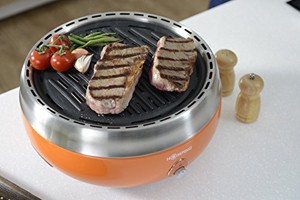 For the price of a decent Weber grill ($199) you get:
A much smaller cooking grate area
An even smaller area under it for coals.
No pesky lid to deal with, so all that annoying flavorful smoke doesn't add any flavor to your cook.
A fan that blows because it doesn't suck.
But the fun doesn't stop there. You'd think that something like this (compact, electric, made for easy cleanup) would be ideal for indoor cooking but since the company has a disclaimer cautioning against that for health reasons (charcoal makes carbon monoxide) and the fact that it doesn't really work, you have to use it outdoors anyway. Not only does this thing attempt to solve the non-existent problem of indoor charcoal grilling, it fails at it, doesn't make much heat, and only lets you cook two chicken breasts at a time. Why did the company bother?
The following two tabs change content below.
Managing Editor | Mark is a freelance journalist based out of Los Angeles. He's our Do-It-Yourself specialist, and happily agrees to try pretty much every twisted project we come up with.
Latest posts by Mark Masker (see all)