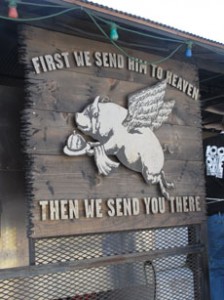 (Written by Georger Hensler) A walk through the rows of teams at any of the hundreds of barbecue contests held throughout the country can be quite an eye opening adventure, particularly to the inexperienced. It goes without saying you will be quite amazed at the shapes, sizes, and styles of the many cookers being used by the teams to prepare their products. You'll see everything from a huge professionally made unit to a 55 gallon drum converted into a smoker in someone's backyard.
Another issue that will become obvious to the astute observer is the clever and humorous use of animals and innuendo on the banners and logos of the various teams which are participating. The most popular members of the animal community found on the various signage are the cow, the pig and the chicken, for obvious reasons. You'll see them driving cars, wearing suits, chasing, cooking and eating each other as well as doing many more wild and crazy things all in the interest in promoting their various teams and having a good time.
For the most part, it's nothing but good clean fun. Who can argue with that? Outdoor cooking and good times go together like peas and carrots or better yet, like hotdogs and buns. In other words, they were made for each other.
The following two tabs change content below.
Managing Editor | Mark is a freelance journalist based out of Los Angeles. He's our Do-It-Yourself specialist, and happily agrees to try pretty much every twisted project we come up with.
Latest posts by Mark Masker (see all)