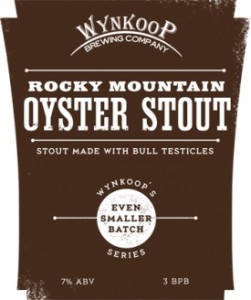 On October 8, at 5 PM, Colorado-based Wynkoop Brewing Company will tap the first keg of a brand new and immensely unique Wynkoop beer: Rocky Mountain Oyster Stout. The beer was inspired by their April Fools spoof video this spring, in which they claimed to have released a beer made with bull testicles.
When Wynkoop brewery frontman Marty Jones sent out the press release and the video link last April, he heard from brewers and beer writers who thought the beer was for real and loved the idea. They wanted samples. So did many patrons who came to the pub to try the beer. "We've been making ballsy beer for the past few years," notes Andy Brown, Wynkoop's head brewer since 2008, "and this is great proof of that."
Rocky Mountain Oysters (aka fried bull testicles) are arguably the state's most popular local dish. The beer is made with Colorado-grown base malts, roasted barley, seven specialty malts (including special B and smoked malt) and Styrian Goldings hops. The beer gets a small dose of sea salt, too. "It gives the beer an extra layer of Rocky Mountain oyster flavor," Brown notes, "and additional texture."
The 8-barrel batch also included 25 pounds of bull testicles that were sliced by hand and then roasted (by Wynkoop sous chef Andrew Langlo) before being added to the beer's mash.
So how does it taste? Rocky Mountain Oyster Stout is an assertive foreign-style stout, slightly viscous, with a deep brown color. It has equally deep flavors of chocolate syrup, Kahlua, and espresso, along with a palpable level of alcohol and a savory umami-like note.It finishes dry and roasted with a fast-fading hop bite. The beer is 7% ABV and has 3 BPBs. That's balls per barrel.
The beer will be available exclusively at Wynkoop Brewing Company and at our table at the Great American Beer Festival, October 11-13 at the Colorado Convention Center in Denver. How do they think the beer will go over with patrons? According to Jones, "We hope they go nuts for it."
The following two tabs change content below.
Publisher | Christened the "Pope of Peppers" by The New York Times, Dave DeWitt is a food historian and one of the foremost authorities in the world on chile peppers, spices, and spicy foods.
Latest posts by Dave DeWitt (see all)