Q: How do you use wood planks for grilling?
A: Wood planks add another dimension to smoke-cooking. Preheat a soaked wooden plank until it begins to smoke, flip it over and place the meat, fish or vegetables on the plank.
Use an alder wood to prepare plank-cooked salmon fillets or a cedar plank for cooking vegetables. The planks add a subtle flavor the grilled onions, zucchini and sweet peppers. Hickory planks are great for burgers, flank steak and tenderloin.
There are two types of planks available. Single-use planks are thin and multiple use planks are thicker allowing them to be reused a number of times.
Presenting grilled foods on planks also makes a dramatic table presentation that has been adopted by numerous restaurants.
In addition to planks, several vendors offer wraps… thin slices of various woods that are wrapped around whatever you're cooking. It's similar to cooking "en papillote" where the meat or fish is wrapped in greased parchment paper.
You don't need a specific recipe for plank-cooking. Just cook the food on a plank instead of on the grill surface. Adjust the cooking time as necessary to compensate for the insulating factor of the plank.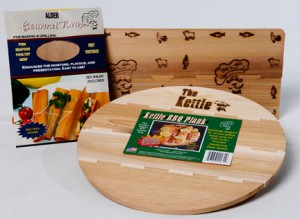 Editor's Note: These days planks come in all shapes and sizes. Chef Locke has developed a line of oven and grilling planks that use an interlocked row of planks dovetailed together into larger shapes (like a pizza plank) to allow narrower wood (from smaller-diameter trees) to be used, presumably saving big trees for more noble uses, like hugging.
They carry an impressive line of wood products, from more traditional planks to reusable, specialized shapes for pizza, beer can chicken, and kettles. You can also find smoker chips and thin, single-portion wood wraps to experiment with. It's the most fun you can have with smoke—without breaking the law!
Read more about plank-cooking in Rick Browne's fantastic article "Plankin' It" on the Fiery Foods & BBQ SuperSite here. You can find Rick's newest book, The Ultimate Guide to Grilling here.

ASK CHEF MIKE YOUR OWN QUESTION ABOUT GRILLING, CHILES, GADGETS, OR OTHER FOOD AND COOKING TOPICS. SEND HIM A MESSAGE HERE.

Mike Stines is a professional chef and the Grilling and Gadgets Editor for the Burn! Blog. Mike holds a "Doctorate of Barbeque Philosophy" (Ph.B) degree from the Kansas City Barbeque society. His book—Mastering Barbecue (Ten Speed Press, 2005)—has been called the "go-to" book for BBQ knowledge.
The following two tabs change content below.
Grilling & BBQ Editor | Mike holds a "Doctorate of Barbeque Philosophy" (Ph.B.) degree from the Kansas City Barbeque Society. His book Mastering Barbecue has been called the "go-to" book for BBQ knowledge.
Latest posts by Mike Stines (see all)