Sabroso Craft Beer, Taco, and Music Festival powered by Gringo Bandito returns to Doheny State Beach in Dana Point, California for its sixth year on April 6 and 7, bringing craft beer, mouthwatering tacos, and live entertainment to the oceanfront.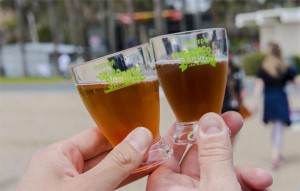 After selling out for two years in a row, Sabroso at Doheny State Beach expands to two days, giving craft beer connoisseurs and taco aficionados the opportunity to sample an extensive collection of brews and tacos while watching lucha libre style wrestling, playing lawn games, and enjoying live performances from The Offspring, Flogging Molly, Bad Religion, Descendents, Good Charlotte, Black Flag, and more.
Produced by California's most successful beer festival producer Brew Ha Ha Productions and premier music festival production company Synergy Global Entertainment, Sabroso brings together an array of breweries and the region's top chefs and restaurants, highlighting the rapidly growing craft beer and taco scene in Southern California. Attendees 21+ will taste unlimited samples of 200 craft beer from 50 fan-favorite breweries including Avery Brewing, Artifex Brewing, Brooklyn Brewery, Burning Beard Brewing, MadeWest Brewing, Russian River Brewing, The Shop Beer, and 805.
Food fanatics will experience an array of flavor from renowned Southern California taco vendors including Panchos Tacos, Border Tacos, Good Fellas Tacos, Vegan Taco Company, and more. Spicy Bite will serve creative Indian-Mexican fusion dishes like jackfruit in chile rojo tacos topped with fresh chutney. Fan-favorite classics will also be available including 24-hour marinated carnitas from Chronic Tacos and fresh shrimp tacos from Sol Agave. Taco vendors will have the opportunity to compete in the coveted "Best in Show" with their most unique creations, voted on by esteemed judges.
World-champion competitive eater Takeru Kobayashi of Nagano, Japan returns to Sabroso on Sunday to defend his 2018 Gringo Bandito Chronic Tacos Eating Champion title in the 9th Annual Gringo Bandito Chronic Tacos Challenge. Additionally, taco creations from food vendors will compete for the coveted Sabroso "Best Of Show," awarded by a panel of food judges, while The Offspring lead singer Dexter Holland's top rated hot sauce, Gringo Bandito, will be available throughout the festival for sampling.
Lucha Libre style wrestling stars from across the globe will take to the ring battling for the title of Sabroso Champion. Renowned Mexico City luchador Cesar Gonzalez— a.k.a. Ramses, the villain wrestling champion in the film Nacho Libre—will return to Sabroso this year to defend his 2018 title of "King Of The Ring."
Complimentary craft beer tastings last until 4 p.m., and tacos will be available to purchase all day. Single Day tickets start at $59.50 (plus fees), and Weekend tickets start at $89.50 (plus fees), while supplies last. For this family-friendly event, kids 7 and under get in free with an adult ticket holder.
Sponsors for Sabroso Craft Beer, Taco & Music Festival powered by Gringo Bandito include Rockstar Energy Drink, Milagro Tequila, Wienerschnitzel, Takis, Chronic Tacos, Del Real Foods, Seagram's, Musicians Institute, Jarritos, Gringo Bandito, and more.
The festival producers encourage attendees to drink responsibly.
For the most up-to-date information on Sabroso Craft Beer, Taco & Music Festival, please visit:
· Website: www.SabrosoTacoFest.com
· Facebook: @sabrosotacofest
· Twitter: @sabrosotacofest
· Instagram: @sabrosotacofest
· Hashtag: #sabrosotacofest
####
About Brew Ha Ha Productions
One of the largest craft beer-centric event producers in the United States, Brew Ha Ha Productions (BHPP) celebrates its 10th year in 2019. Fueled by a desire to promote craft beer, along with visions of creating unique annual events, Orange County based BHHP's award-winning and diverse events now reach beyond Orange County and California, including festivals in more than 12 US states. BHHP produces or co-produces OC Brew Ha Ha, Brew Hee Haw at the OC Fair, Brew Ho Ho Holiday Ale Festival, Driftwood Country, Craft Beer & BBQ Festival, Sabroso Taco, Craft Beer & Music Festival, Punk In Drublic, Scallywag and more! A for-profit organization whose missions includes giving back, BHHP has helped many non-profits raise awareness and money to further their worthy causes. www.brewhahaproductions.com
About Synergy Global Entertainment, Inc.
Orange County, California based Synergy Global Entertainment, Inc. (SGE) is one of the world's premier music festival production companies. SGE events include music and lifestyle festivals across a variety of genres and interests, with over 100 major festival dates planned for 2019. SGE produces or co-produces Back To The Beach; Big Adventure; Driftwood; ID10T Music Festival + Comic Conival; Knotfest; Lost Lands (Your EDM Best Festival of 2017 and Noiseporn 2017 Festival Of The Year); Moonrise Festival; MUSINK; Ohana Dana Point; Sabroso Taco, Craft Beer & Music Festival; 92.3 WCOL Country Jam + Campout; Scallywag!, Surf City Blitz, and more. In addition, SGE co-produced the Rockstar Energy Drink Mayhem Festival and the worldwide Rockstar Taste of Chaos, and created and produced the Identity Festival, Oddball Comedy and Curiosity Festival, and Rockstar Energy UPROAR Festival. This year's SGE-affiliated events are projected to sell over 1.2 million tickets. In addition to festival production and promotion, SGE's in-house sponsorship agency procures and executes a multitude of partnerships in varying forms for global brands, top-tier artists, international booking agencies and more.www.sgeworldwide.com
About Gringo Bandito
Gringo Bandito was started in 2004 by Dexter Holland, singer for the multi-platinum punk rock band The Offspring, more as a hobby than a business. "I just thought it would be cool to have a hot sauce," says Holland. "I gave away the first batch as Christmas presents to my friends." The response to this new hot sauce was so overwhelming that Holland decided to put it out commercially. Sales were modest at first, and the hot sauce was distributed only in Holland's native Southern California. "It has always been a DIY operation for sure," Holland says. "It started small but it has just kept on growing." After several years and over a million bottles later, Gringo Bandito hot sauce has garnered a worldwide audience and a loyal following. "We're not the most well-known hot sauce out there," says Holland, "but once people try it, they're hooked." Gringo Bandito is now sold in Australia, Japan, Canada, Finland, Switzerland, UK, Poland, Germany, Belgium, Hungary and coast to coast in the US and can be found in the top 10 on Amazon.com's highest customer rated hot sauces amongst 5000+ other products.
The following two tabs change content below.
Managing Editor | Mark is a freelance journalist based out of Los Angeles. He's our Do-It-Yourself specialist, and happily agrees to try pretty much every twisted project we come up with.
Latest posts by Mark Masker (see all)