Last week, NBC reported that mommy and daddy (Underwood Ranches and Huy Fong Foods, Inc) are fighting here in California. As usual the kids (Sriracha fans) are caught in the middle of the sprat to some extent.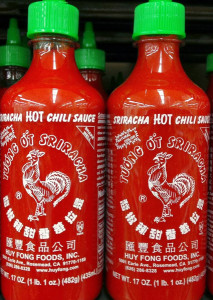 For you kids just joining us, Huy Fong Foods, Inc produces Sriracha. Underwood provides the peppers that make that possible. Huy Fong is claiming breach of contract by Underwood, accusing it of not returning millions of dollars' worth of equipment and to refund an overpayment totaling close to $1.5 million.
Since Underwood has grown the peppers Huy Fong puts in its sauces for over three decades, this could end up being a bit of a big deal for Sriracha consumers (different pepper provider, different taste; production delays), or it could be nothing for them. You can find out the details from the report here.
The following two tabs change content below.
Managing Editor | Mark is a freelance journalist based out of Los Angeles. He's our Do-It-Yourself specialist, and happily agrees to try pretty much every twisted project we come up with.
Latest posts by Mark Masker (see all)