While exploring the multifaceted cuisines of Trinidad and Tobago (T&T), Dave and his wife, Mary Jane, had the opportunity to experience Congo pepper fever on those two islands. In Trinidad, "Congo' means anything large and powerful, and this type of chinense lives up to its name. We found some as large as lemons, and they had thicker walls than most of the habaneros we were familiar with.
Our hosts and guides in Trinidad were Marie Permenter and Vernon and Irene Montrichard, who own thirteen Royal Castle fried chicken restaurants on Trinidad. What makes their chicken different from Kentucky Fried Chicken, the competition, is that it is marinated in a sauce made from Congo peppers and a number of fresh herbs (Spanish and French thyme, mostly) that are grown in the nearby hills of Paramin. They also export this hot-sauce base is exported to Jacksonville Beach, Florida, where it is manufactured into Trinidad Habanero Sauce by Caribbean Food Products.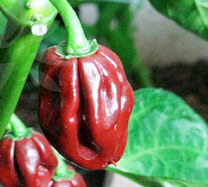 Marie and Vernon took us on a tour to their Congo pepper fields and introduced us to the growers, who lived in a nearby shack. The well- established planting was several acres in size and was surrounded by thick vegetation. We learned that the Congo pepper plants grow about three feet high in a single year and are picked twice. Then they are plowed and the site is replanted. The growers told us that the plants would live for decades, but would produce smaller fruits each year.
We also met up with Congo peppers in Tobago. Scarborough, the capital, has a small but interesting Botanic Station, where we met with Reginald Phillips, the technical officer in charge. He told us that one of the station's main projects was raising Congo pepper seedlings to supply small farmers. Evidence of his efforts was widespread at the market downtown, where vendors sold the brightly colored pods in plastic bags.
Nobody seemed to know exactly how many acres were in pepper production in T&T, but after talking to a few knowledgeable people, like Vernon Montrichard, the figure of two thousand acres seemed to be the best estimate. Much of this crop is exported. Total exports to Canada, the United States, and the United Kingdom amounted to TT$1.6 million in 1991 (equivalent to about U.S. $250,000), with about 131 tons alone to the United States.
The rest of the crop is sold in markets and is used to make hot sauces. Every family in T&T seemingly has its own recipe, but the plethora of homemade sauces has not prevented a large hot sauce industry from springing up. There are perhaps five major manufacturers of hot sauce in T&T and about ten minor ones. The best known T&T hot sauces sold in the United States are the Matouk's hot sauces and the Trinidad Habanero Sauce, which we described earlier.
Editor's Note: Excerpted from The Habanero Cookbook, which you can pick up here.
The following two tabs change content below.
Managing Editor | Mark is a freelance journalist based out of Los Angeles. He's our Do-It-Yourself specialist, and happily agrees to try pretty much every twisted project we come up with.
Latest posts by Mark Masker (see all)