Gringo Bandito being the project of The Offspring's lead singer/guitarist Dexter Holland, I promise not to make any cheesy references to their music in the writing of this review of his fine product. At no point will I say, "Gringo Bandito is pretty spry for a white guy," "The capsaicin wanted to come out and play," or "You gotta get away and pick yourself up a bottle of this." All of those things are true. I just have too much self esteem to engage in that sort of cheap punnery at the expense of someone else. Daddy's a class act, baby.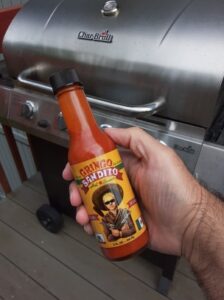 In all seriousness, Dexter Holland is pretty proud of Gringo Bandito and with good reason. It wasn't like the company hit him up for some endorsement deal. The sauces are his deal. This isn't a shocker, considering the man is also a licensed pilot and recently knocked down a PhD in molecular biology from USC. Since Holland launched the Huntington Beach, CA brand it's grown from a pet project into a national brand carried in Wahoo's and Chronic Tacos restaurants. It's also sold in major national grocers like Whole Foods, Mother's Market, Kroger, Vons, etc. They are also an Amazon top 10 selling sauce and have been covered dozens of media sources include NY Mag, Forbes, Inc. and many others. That doesn't suck!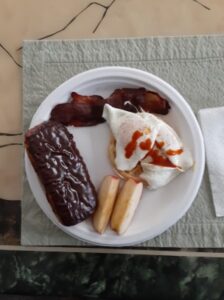 I received four different Gringo Bandito saucesGringo Bandito sauces to play with; I'm starting with the original. It's a very peppery sauce. By which I mean, it offers a lot in the pepper flavor department. Habanero, Fresno, anchiote, dried chilis, and unspecified hot yellow chili peppers give it depth and a strong heat but not one that lasts forever at one drop of sauce. Over the course of this week, I had it on fried eggs, with pork enchiladas, and on a burger. It was a tasty enhancement to all three but you don't need to blorp it all over your food. A little went a long way for me and that's a good thing. We'll be reviewing the others in the weeks to come!
The following two tabs change content below.
Managing Editor | Mark is a freelance journalist based out of Los Angeles. He's our Do-It-Yourself specialist, and happily agrees to try pretty much every twisted project we come up with.
Latest posts by Mark Masker (see all)