When it comes to whoring out its talent, Brazzers has nothing on Disney. Both have a long history of squeezing (or jerking) every last bit of juice they can get out of their customers but the House of Mouse exploits its characters into territories adult film stars can only dream of. And now Mickey Mouse has his own set of corn cob holders.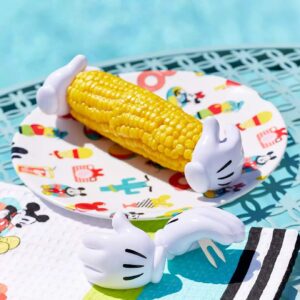 For the low, low price of just $34.99, you can add this item to your growing arsenal of grill goodies you keep in that special drawer in the kitchen. You know the one, full of other novelty grilling items, like your Star Wars Darth Vader spatula or Spider-Man grill gloves.
Personally, I think 35 bucks is way too much to pay for corn stabbers but then again, I'm not the sort of adult who wears Beauty and the Beast leggings and a Fantasia t-shirt to a wedding. No, not a theme wedding, either. Yeah, I'm looking at you, Aunt Rhonda. Also, your cats don't like those little costumes you make them wear in public. You need a hobby.
The following two tabs change content below.
Managing Editor | Mark is a freelance journalist based out of Los Angeles. He's our Do-It-Yourself specialist, and happily agrees to try pretty much every twisted project we come up with.
Latest posts by Mark Masker (see all)