I'm not a big fan of electrical cords, especially when firing up coals for grilling. If I wanted to use a wall outlet to cook, I'd go back inside, fill the crock pot, and let it do the work while I drink bourbon all day. But I'm an outdoor drinker, so that dog just ain't gonna hunt. Besides, power cords love to get in the way and trip people.
While my favorite cordless starter for coals is a chimney starter, that's not always an option for lighting other types of fire. Electrics are good alternatives for things like fireplaces and chimineas. Moreover, barbecue gadget companies do offer up cordless versions of their products nowadays. Even Zippo makes an accelerator for camp fires. Here are four of them to consider if you're looking for an electric option. Click the titles for the links.
Zippo Firefast Bellows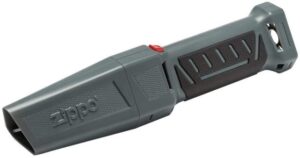 On the cheaper side of the spectrum, you'll find little gadgets that blow air into small fires to speed them up and make sure the fuel catches flame. That's the case with the Zippo Firefast Bellows. You might also want to use them in conjunction with a chimney starter if the paper inside it has trouble getting up to heat. In essence what these cheap little e-bellows do is save you the trouble of putting your face near the fire and blowing into it. Running on AA batteries, Zippo says you'll get 180 one-minute bursts out of the Firefast on a set of batteries. At twenty bucks, it's the least expensive entry here.
FiAir Air Blower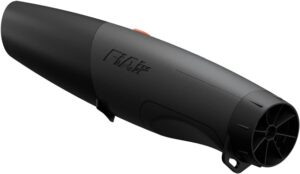 Like the Zippo, the FiAir runs on batteries. In this case, three AAA ones. It's also a compact point-and-shoot blower. It pulls air in through the back, and jets it through the front into your fire. That said, it's really a fire accelerator, not a true starter. You need an existing source of heat like lit newspaper among your wood or coals first. The FiAir shoots air into that source to get it burning hot and help your fuel to catch. After a couple of minutes, you should have a good, hot bed of coals or wood fire started. It sells for about $24.99, which isn't unreasonable for what it does.
Bison BA001 Airlighter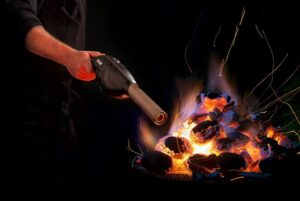 Unlike the air blowers above, the Bison has its own heat source. Not only does it shoot air into your coals or wood source, its butane torch brings the heat as well. With a claimed flame temperature of 2600°F, the Bison should light wood logs, coconut coals, and other fuels pretty easily. Lighting time runs around a minute and each charge should light about 20 fires. It recharges via USB and uses butane fuel to do the job. At $79.95, it's the middle child of the price range for the lighters we're discussing.
Looft Lighter X

…and then there's the Looft Lighter X. Running on Lithium-Ion tech, it's fully electric and rechargeable. A charge lights up to ten fires and recharging it takes two hours. It's bulkier than the rest of the options on this list (and pricier, at $299.99) which doesn't make it the best candidate for backpacking but if you're into reliable high-end outdoor gadgets for your RV or backyard, well, this definitely fits the profile. I've used its corded cousin and found it to do a great job so I see no reason why quality would suffer with the Looft Lighter X.
The following two tabs change content below.
Managing Editor | Mark is a freelance journalist based out of Los Angeles. He's our Do-It-Yourself specialist, and happily agrees to try pretty much every twisted project we come up with.
Latest posts by Mark Masker (see all)