For various reasons I went back to my Alaskan roots this summer. Mostly to see family since my lease had ended and the time was right to do so. I also took the chance to check out some of the barbecue and smoked food options the ol' home base had to offer since I'd moved away in the Age of Mullets and Acid-washed Jeans.
Obviously, that means some killer seafood. That's Alaska's jam. But game meats, sourdough, and rhubarb products all come into play too. Kelp salsa? That was a newby, though!
While staying near Anchorage, I had to hit up Indian Valley Meats, south of town on the Seward Highway. Originally built by Doug Drum next to his cedar house, it sits in Indian, Alaska at the juncture of the Chugach Mountain Range and the Pacific Ocean. Early on the place was a processing center for fish and game brought in by locals who needed food preserved for winter. He also processed food for some of the rural villages. Now, though, Indian Valley Meats also sells its own in-house product lines of reindeer, salmon, bison, and other meats. I picked up their reindeer hot dogs, spicy patty sausage, and mild sausage to cook with while I was here. It also now has a B&B, conference lodge, and training facility onsite.

Turnagain Arm Pit BBQ
offers the barbecue stand-by's we all know and the quality is excellent. They smoke all of their meats in local alder wood because that's what's most readily available. It's a milder smoke flavor that's especially suited to fish and poultry. That said, the restaurant's signature dish is the Bore Tide Sandwich: a half a pound of pulled pork topped with a bacon plank. I highly recommend it. Jack also has two other locations as well.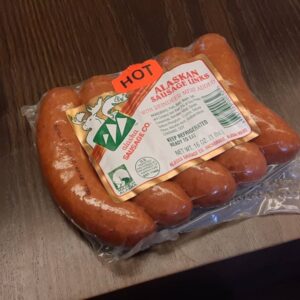 Heading north back into Anchorage I stopped by
Alaska Sausage and Seafood
. Much like Indian Valley Meats, it was here while I was growing up. By the time the army transferred my dad to Fort Richardson just outside of town in 1971, Alaska Sausage and Seafood had been around for eight years. Austrian Herb Eckmann and German Otto Poehling started the business in 1963, after realizing local hunters had no place in town to properly cut, process, and package their meats. They filled that need; in time they added smoked seafood and a European retail store, too. Now the place processes meat and seafood for retail customers and commercially. You can even buy some of their products at the local Costco. While I was here I rounded out my reindeer collection with some nice, smoked hot links which I'll review later.
The following two tabs change content below.
Managing Editor | Mark is a freelance journalist based out of Los Angeles. He's our Do-It-Yourself specialist, and happily agrees to try pretty much every twisted project we come up with.
Latest posts by Mark Masker (see all)