I really don't care for product reviews where the reviewer doesn't seem to have actually tried the product in question. And you know it's a doozy when the lead-in is a disclaimer stating that if you buy something using the links in the story, that the reviewing site earns a commission. That's like saying, "Just so you know, this is a sales pitch and not really a review at all. But at least we're telling you we've been bribed up front."
I recently came across one such review of a burger press and what it fails to mention is that burger presses like the one reviewed really aren't the best tools for their job. It's been my experience that patties can get stuck in them unless you press gently or line them with cellophane first.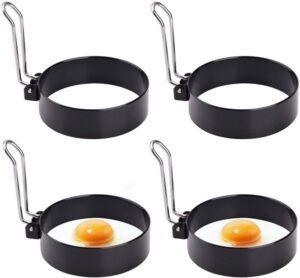 Ring molds are my preferred burger shapers when I care about that sort of uniform appearance. They don't have a bottom piece to get stuck to, they're easier to clean (for the same reason), and they're more versatile; throw one on a griddle or cast iron pan on the grill and they're great for shaping fried eggs, for example. They're also good for baking and shaping ice cream sandwiches as well.
The egg mold above is just one of the ring molds readily available online or in stores. Any place that sells baking tools will have more; possibly in a variety of sizes so you can finally make that 12-inch burgerhemoth you've been craving and actually have it look good. And no, I don't get a commission for saying any of this.
The following two tabs change content below.
Managing Editor | Mark is a freelance journalist based out of Los Angeles. He's our Do-It-Yourself specialist, and happily agrees to try pretty much every twisted project we come up with.
Latest posts by Mark Masker (see all)