For several years, our family winter break destination was Sayulita in the State of Nayarit. We would spend several weeks exploring the area visiting different beaches, villages and markets. Equipped with an all-terrain vehicle, there wasn't a place we would hear it was worth the visit that we wouldn't venture to see. We would carry food and ice cold beer along, at times a grill with the corresponding marinated seafood ready for the coals also joined us. Divorcing good food from travel has never been an option for us.
We also visited the busy tourist beaches, those with the countless and ever present vendors of blankets, popsicles, marijuana brownies—restricted clientele—and pescado zarandeado.
Sold on a stick in the beaches of Nayarit, pescado zarandeado never appealed to me because it was offered cold. I had had it in Sinaloa food restaurants—as a dish and in tacos—in Mexico City and always wanted to learn how to make it at home. I asked waiters and cooks, and always got a long list of non-appealing ingredients or what seemed to me dubious recipes. In Nayarit, I would ask the beach vendors where the kitchen was where the fish was being prepared, and if I could go there and buy it hot out off the grill. I had the double purpose of eating it freshly cooked and to see how it was made. After getting directions, I would go to try it and if I liked it I would push to get the recipe, with no luck. The "kitchens" were always improvised humble open air huts where you could see how they would marinate, cook, and prepare the "fish on a stick". Often I liked the available version but no one would want to tell me what exactly was in the dark red liquid where the fish was marinated. I could spot—and taste—lemon, red chile powder and a series of off the shelf bottles of fiery sauces and other sauces such as soy, Worcestershire, mayonnaise, Maggi, Huichol, and the like. That was the norm. As usual, every kitchen had its own concoction, many good ones but nobody would reveal the "secret" that they were hoping one day would make them millionaires. Since I prefer cooking from scratch, I decided to do some research and try to develop my own recipe—as the story of my life has been…
Pescado zarandeado has a Pre-Hispanic origin in the Pacific coast of Mexico where the Totorame people lived. A territory limited in the north by the Piaxtla river in what is today Sinaloa, and in the south by the Santiago river, today's State of Nayarit. I had to talk then to my friends in Mazatlán, Sinaloa and the ones on the Riviera Nayarit as well.
When something is "finger licking good" in Mexico, the claim most of the time is that the origin is a grandmother's kitchen in a small town hidden in a far away jungle or mountain. Pescado zarandeado was no exception but I wanted to get to the bottom of it anyway. My friends from Sinaloa claimed they created it and the ones from Nayarit copied them. Further research told me that the specific place where this dish originated was Mexcaltitán, an island in a lake of the same name fed by the Santiago river in the municipality of Ixcuintla, Nayarit. This small paradise, by the way, only measures around 435 yards in length by 380 yards in width. During the rainy season, its streets get flooded for several months and people use small boats to get around. This Pueblo Mágico is often called "La Venecia Mexicana".
Looking at the different ways the dish is prepared in the region, I noted that originally Pescado Zarandeado in Nayarit was just a butterflied fresh fish that has been marinated in lemon juice and sprinkled with ground dry red chile then cooked in a zaranda—a grill basket made of mangrove branches—over mangrove wood at low heat. Since mangrove is now a protected species and cannot be harvested—only naturally fallen branches or dead trees can be collected—charcoal is used instead.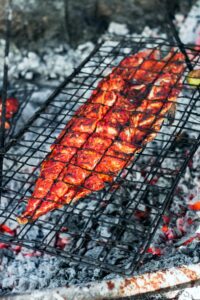 In Sinaloa, the marinating becomes complex. They have added—pick and choose—mustard, butter, achiote paste, mayonnaise and spices among other "good ideas". They also add tomatoes, onions, bell peppers on top, wrap it in aluminum foil and cook at low temperature. This added complexity comes from the belief that the more ingredients you include in a recipe the better the flavor of the dish would be. Often, this approach  ends up masking the delicate flavor of the fish and offsetting the balance of the original two or three ingredients. The two versions are in fact different! Traveling and migration has contributed to the exchange of "good ideas" and we find everywhere original recipes being altered or what I call "contaminated".
For your pleasure, find the Mexcaltitán old recipe below and two other "good ideas" about how to "improve" it. Venture to develop your own version as I did, just don't forget the original and the origin. If someone wants to discuss with you whether pescado zarandeado is from Sinaloa or Nayarit, just tell them that those States didn't even exist when the Totorame people invented the dish! And brag about your version!
In Mexico City find Tacos de Pescado Zarandeado on a blue corn tortilla at Restaurante "Avenida La Tizona" Salamanca 69, Colonia Roma Norte, Mexico City. Instagram & Facebook @avlatizona
Recipes
Pescado Zarandeado: the original recipe
This dish was originally prepared only by squirting lemon juice and sprinkling red chile powder and salt to an open whole fish and then cooked over coals. You can prepare it using a grill basket, lemon juice, chile guajillo powder and salt to taste. If you want to make it fiery just add chile de árbol powder to your liking.
Pescado Zarandeado a la Mexcaltitán
Cooked in a grill basket, this contemporary version it's served with a simple salad on the side made of lettuce, tomatoes, onions and avocado.
Ingredients
1 2 to 3 Lbs. clean whole fish gutted and butterflied
For the adobo:
2 Oz. Achiote paste
The juice of one Seville orange. Substitute the juice of one orange and one lemon
2 Garlic cloves minced
1 Splash of soy sauce
Salt and chile guajillo powder to taste
Instructions
In a blender mix the adobo ingredients to a thick sauce. Spread the adobo generously on the fish and let it rest for half an hour in the refrigerator. Using a grill basket, cook it over coals in low heat on both sides. Ready in around ten minutes. Enjoy!
Yield: 4 servings
Heat level: Medium
Pescado Zarandeado a la Sinaloa
Ingredients
1 2 to 3 Lbs. clean whole fish gutted and butterflied
1 Tomato sliced
1 Green bell pepper sliced
1 White onion sliced
1 Sprig of cilantro
1 to 2 Splash of soy sauce
For the adobo:
2 to 3 Tablespoons of mayonnaise
1 Tablespoons of mustard
1 Pinch of orégano
Salt and chile guajillo powder to taste
Aluminum foil and butter
Instructions
In a blender mix the adobo ingredients to a thick sauce. Spread the adobo generously on the fish and let it rest for half an hour in the refrigerator.
On a piece of buttered aluminum foil, place the fish covered with the vegetables and sprinkle the soy sauce. Fold the foil to a closed wrap sealing on the edges. Cook over low heat coals between 10 and 15 minutes. Serve with rice, beans and corn tortillas. Enjoy it!
Yield: 4 servings
Heat level: medium
The following two tabs change content below.
Latest posts by José C. Marmolejo (see all)