If you live where it gets cold, you know that winter grilling is a thing. It can also be a fun alternative if you're tired of the traditional Christmas dinner cooked indoors and whatnot. We've covered winter grilling tips before but here are some more of 'em to help you out.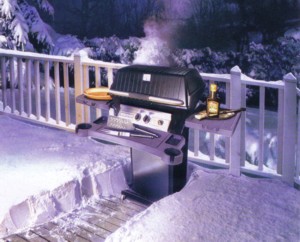 Plan on using more fuel. My formula is to plan on using 50 percent more charcoal in the grill. Lump charwood is the preferred fuel for charcoal grills, as it burns hotter than briquettes.
Preheating will take longer. Allow an additional ten to 15 minutes to preheat your grill (whether charcoal or gas). Be sure to take snow and ice off of the grill.
Cooking will take longer. I guesstimate an additional four minutes of cooking time for every five degrees below 45 degrees F. but always use a thermometer to check for doneness. Placing ceramic fire bricks around the cooking grate will help maintain the grill's temperature by reducing convection heat loss.
Wind is your enemy. Wind and rain have a greater impact on cooking times than cold temperatures. Both wick heat away from the grill, so try to find a location that is at least partially shielded from the elements. (Of course, never use your grill in an enclosed area such as a car port or garage, and keep your grill a safe distance from your house.)
Keep the grill cover closed. Every time the grill is opened to tend to the food (or just to peek), the temperature will drop. On average, opening the grill's cover will add 15 minutes to the cooking time.
Use preheated platters. Preheat platters in a microwave or atop the grill to keep the food warm from the grill to the table.
You can also check out Mike Stines' piece on Winter Smoking Tips, too.
The following two tabs change content below.
Grilling & BBQ Editor | Mike holds a "Doctorate of Barbeque Philosophy" (Ph.B.) degree from the Kansas City Barbeque Society. His book Mastering Barbecue has been called the "go-to" book for BBQ knowledge.
Latest posts by Mike Stines (see all)