Byron Bay Chilli Co hits us with great seafood recipes on the regular. We love sharing 'em with you, especially with spring kicking off for 2021. Recently, they sent us this tropical treatment for a rice salad offset by hot grilled prawn skewers. You don't want to make this off the cuff, though. The flavor of this salad improves with age. Try to prepare it 24 hours in advance. It's also a good plan to s
lice fruit and arrange the salad just before serving.
In addition, it also works well with
cubed chicken or small cooked prawns. To make it extra hot add some drops of the Heavenly Habanero Chilli Sauce.
Try chilli and lime skewered prawns (main meals) with this salad. Serve prawns hot off the grill, possibly with coconut jasmine rice. Cooled prawns can also be served on salad greens. Drizzle it with a vinaigrette made with oil, lime juice and a dash of chilli sauce. You may want to experiment with basting the prawns with BBCC Spicy Sweet Chilli Sauce (or do half and half with both sauces).
Byron Bay Chilli Co: For the Salad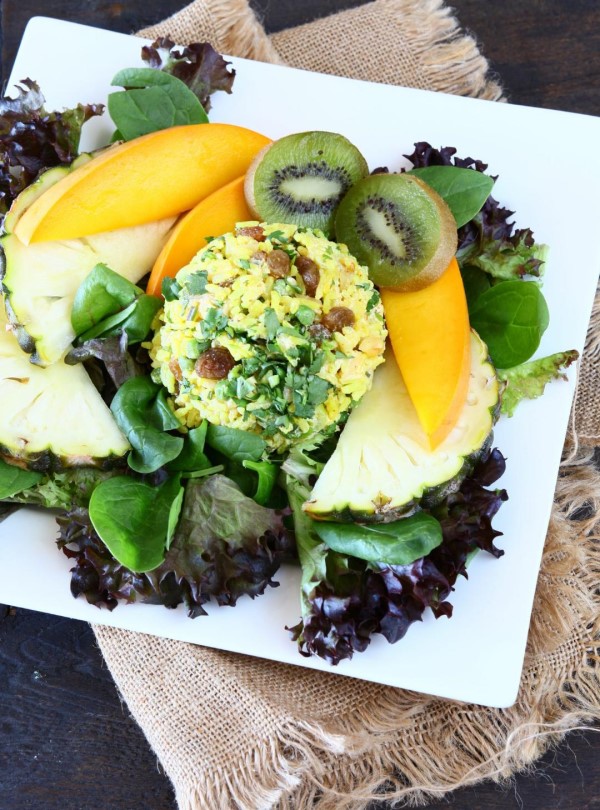 Ingredients
3 ½ cups vegetable stock

2 cups jasmine rice

2 teaspoons curry powder

½ teaspoon turmeric

¼ cup vegetable or macadamia oil

¼ cup lemon or lime juice

¼ cup plain yogurt

1 cup sliced green onions

1 cup sultanas

1 cup frozen baby peas (defrosted, uncooked)

½ cup toasted slivered almonds

¼ cup chopped candied ginger

1 cup chopped coriander

salt

salad greens

coriander sprigs

sliced fresh pineapple

sliced pawpaw

sliced kiwi fruit
Instructions
Bring stock to a boil in a large pot. Stir in rice, curry powder and turmeric. Cover and reduce heat to low. Cook until tender, about 15 minutes.

Allow to cool slightly with lid removed. Transfer rice to a bowl, stir in oil and juice. Refrigerate several hours until rice is cool.

In a small bowl, mix together yogurt and chilli sauce. Gently stir into rice along with onions, sultanas, peas, almonds, ginger and chopped coriander. Season to taste with salt. Refrigerate for at least 30 minutes to allow flavors to develop.

Serve individual portions on salad greens, top with coriander sprigs and garnish on the side with sliced pineapple, pawpaw and kiwi fruit.
Byron Bay Chilli Co: For the Prawns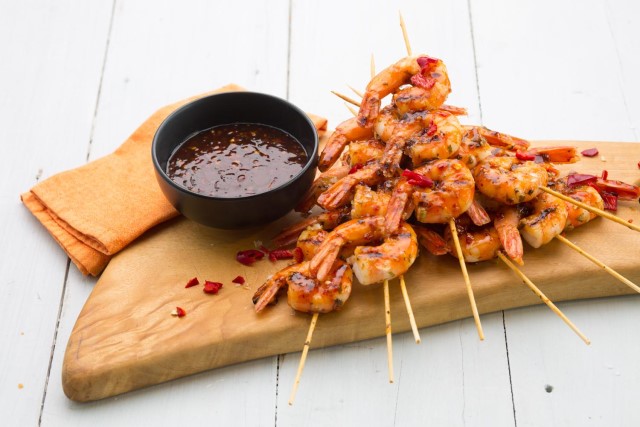 Ingredients
24 large prawns

2 tablespoons chopped coriander

2 cloves garlic, minced

2 tablespoons lime juice

1 red chilli, finely chopped (optional)

1 tablespoon vegetable oil
Instructions
Shell and de-vein prawns and place in a shallow dish. Mix coriander, garlic, lime juice, chilli and oil together. Pour over prawns and marinate for 30 minutes in the refrigerator.

Place prawns on metal or bamboo skewers and grill about 3 minutes on each side while basting with chilli sauce.
Serves 4

The following two tabs change content below.
Managing Editor | Mark is a freelance journalist based out of Los Angeles. He's our Do-It-Yourself specialist, and happily agrees to try pretty much every twisted project we come up with.
Latest posts by Mark Masker (see all)