Here is our recipe for a typically Southern sausage made with ground pork and lamb. For this recipe you will need a meat grinder with a sausage funnel, a tube that fits over the end of the grinder for filling sausage casings. You can also use a mixer such as KitchenAid, which has a sausage stuffer attachment. When stuffing, fill the casings until the sausage segments are about 4 inches long, then twist the casing and tie the sausages off with string. Then cut the casing off with scissors. Serve the hot links on buns with raw onions and barbecue sauce along with a macaroni salad and baked beans.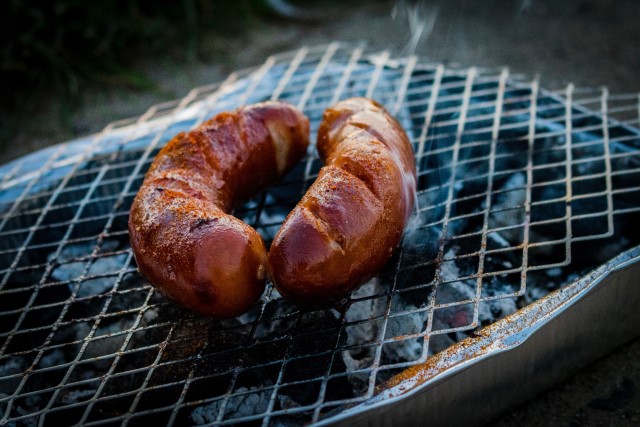 Southern Hot Links Ingredients
2 pounds ground pork, shoulder cut preferred
2 pound ground beef, round steak preferred
2 teaspoons crushed red chile (pequin for hot, New Mexican for mild)
2 teaspoons paprika
2 teaspoons dried sage
1 teaspoon ground cumin
2 teaspoons dried basil
1 teaspoon anise seed
2 teaspoons dried oregano
Sausage casings
Barbecue sauce of choice, such as North Carolina Barbecue Sauce
Instructions
In a bowl, combine all ingredients and mix well.
Using a meat grinder with a stuffing attachment, stuff the sausage casings and tie them off.
Build a fire in the smoker, place the sausages on the grate in the smoker, and smoke at 200 to 220 degrees F. for about 3 hours, or until the internal temperature reaches 170 degrees F.
Remove from the smoker and serve with the barbecue sauce.
The following two tabs change content below.
Grilling & BBQ Editor | Mike holds a "Doctorate of Barbeque Philosophy" (Ph.B.) degree from the Kansas City Barbeque Society. His book Mastering Barbecue has been called the "go-to" book for BBQ knowledge.
Latest posts by Mike Stines (see all)