While many think of grilling steaks, chicken, and burgers as the ideal barbecue party (at least in the Northeastern area of the county) the grill is also a great tool for smoking, plank-cooking and grilling seafood and fish. Unlike indoor cooking where the kitchen will have a cooked fish odor for hours, outdoor cooking allows the backyard chef to freely experiment with the different ways of cooking fish and seafood.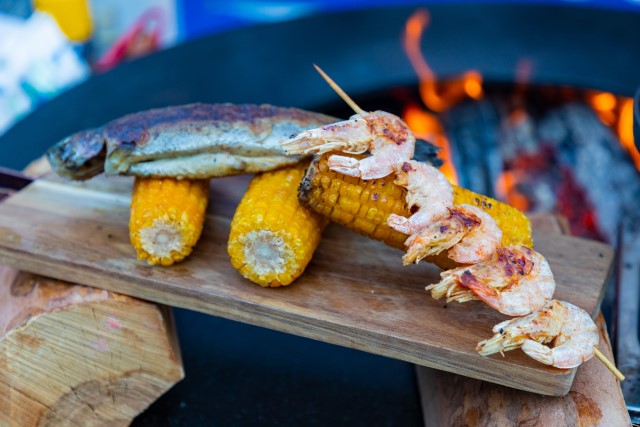 Smoked Fish and Seafood
There are two methods of smoking fish and seafood, cold smoking and hot smoking. Cold-smoking smokes uncooked seafood for up to 16 hours between 70 degrees F and 90 degrees F. It does not cook the fish, but is rather a combination of steps: brining, drying and smoking. The most commonly known cold-smoked fish is smoked salmon or Lox. Hot-smoking also involves brining, drying and smoking, but this method actually cooks the fish, as the smoking is done at temperatures up to 190 degrees F.
While almost any fish can be smoked, the more popular are salmon, bluefish, mahi-mahi, tuna, sea bass and cod.
To hot-smoke fish, first soak alder, apple or oak wood chips in warm water or white wine for at least an hour. Prepare the grill for indirect cooking.
For a gas-fired grill, light the burner on one side of the grill and leave the other burner off. Put a drip pan under the cooking grate on the unheated side. Put the drained wood chips in a smoker tray or an aluminum foil pouch with holes punched in it. Put the tray or pouch over the lit burner.
For smoking in a charcoal grill, bank the coals on both sides, leaving the center area clear. Put a drip pan in the center area and sprinkle the drained wood chips over the coals.
Or, prepare a bullet-style or offset smoker for smoking.
Smoke the fish at about 90 degrees F for two hours and then gradually increase the smoker or grill temperature to 175 degrees F and continuing cooking until done.
Depending on the size of the fillets, most fish will be properly smoked and cooked in four to six hours or when the fish reaches an internal temperature of 140 degrees F. Larger pieces weighing between three and four pounds will need to smoke for up to eight hours. Oily fish need a longer smoking time. Using a remote reading thermometer helps to take the guesswork out of smoking fish.
Grilled Fish
While some advocate "grilling" fish in an aluminum foil packet, that doesn't truly grill the fish but rather steams the fillet creating a different texture and taste. A favorite way to grill fish fillets is by using a hinged wire fish basket over medium direct heat.
Season the fish with salt, pepper, a little olive oil, some lemon juice and a splash of good white wine. Firm fish such as mahi-mahi, swordfish, shark, salmon and tuna can be grilled directly over medium direct heat on very clean and well-oiled cooking grates. If the cooking grates are not scrupulously clean, the fish will stick.
The basic guideline for grilling fish is 10 minutes per side per inch of thickness. The fish is done when it has an internal temperature of 140 degrees F. If you wait until the fish flakes easily, it will be overcooked when it is served, as the fish continues cooking when removed from the grill.
Grilled fish should only be flipped once; otherwise it tends to break up. Ever wonder how to get those impressive diamond patterns on grilled fish? First, the grill's cooking grates must be meticulously clean and well-oiled. Preheat the grill to medium high and lightly brush both sides of the fish steak with olive oil. Place the fish on the grill and lower the cover. Cook for one-half of the estimated cooking time and, using a wide spatula, turn the fish 45 degrees and continue cooking the remaining time. Flip the fish and repeat the process until done.
A word of caution when grilling oily fish such as bluefish, mackerel, marlin, salmon or sword-fish. Because the fish has high oil content, it is easy to set the grill on fire from the drippings. Keep an eye on the fish and a squirt bottle handy to extinguish any flames. Indirect cooking instead of direct cooking also reduces the likelihood of flare-ups.
Plank-Cooking Seafood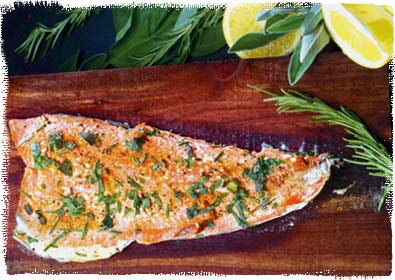 Plank-cooking, originally used by Native American tribes in the Pacific Northwest for cooking salmon and on the East coast for cooking shad (herring) next to an open fire, is now one of the hottest trends in gourmet cooking. Most up-scale restaurants now feature some sort of plank-cooked entrée on their menus.
There are two methods of plank-cooking: use a special heavy-duty plank designed for repeated oven use that is about an inch thick, or use lighter-weight and thinner planks on the grill. While most gourmet shops carry specialty planks designed for oven use and most barbecue shops offer grilling planks, you can get untreated planks from a local lumberyard and cut your own. Grilling planks should be about 14-inches long, 7-inches wide and about 3/8-inch thick.
The planks—untreated virgin alder, maple, oak, hickory, mesquite or apple—char during cooking and impart a unique smoky flavor, more subtle than traditional smoking in an offset or bullet smoker.
Soak the grill planks in water for two to four hours. Preheat the grill on high or prepare a direct-heat charcoal fire. Once the grill is hot, brush the planks with olive oil and place them on the cooking grate. Heat the planks until they begin to smoke. When the planks begin to smoke, flip the planks over so the charred side is up and reduce the heat to medium, or move the planks for indirect cooking on a charcoal grill.
Place the food on the plank and cook, with the grill covered to retain the smoke, until done. Because the wood also acts as an insulator, most plank-cooked foods will take longer to cook than grilled foods.
A few years ago, a seasoned camp chef was overheard explaining how to cook carp on a plank. "First, you have to catch carp," he told his companion. "It's harder than it sounds as they are wily, and a tough fighter. You want one that is about two pounds. Fillet the carp and stake it to a plank preferably apple, peach, alder or cedar. Place the planked carp in a large pan and pour in enough cheap, but drinkable, red wine to cover. A half gallon should do it, as that way you have some left over to drink. Marinate planked carp in the refrigerator for at least 24 hours. Remove planked carp from the refrigerator, and fire up the grill.
"Cook the planked carp. When it's done, remove the carp from the plank and throw the carp away. Eat the plank accompanied by some more of the cheap red wine."
That might be true for carp (and herring for that matter), but for other fish and vegetables, plank-cooking is a great method. It is such a simple process—it's almost foolproof. It's also a great way to impress your friends, neighbors and family.
Recipes
Basic Fish Brine for Seafood
The most basic brine consists of water and kosher salt, but because the salt solution is absorbed into the fish, it can also be used to carry other flavors with it to enhance the smoked fish. This recipe works well for any fish fillet or whole fish that will be hot-smoked.
2 quarts water, divided
1 cup granulated sugar
3/4 cup coarse kosher salt
1 1/2 tablespoons crushed black pepper
1 teaspoon granulated garlic
2 tablespoons Worcestershire sauce
1/4 cup dark brown sugar
4 bay leaves
In a medium saucepan over medium-high heat, bring one quart of water to a low simmer. Add remaining ingredients, except water, and simmer until salt and sugar dissolve. Remove from heat and add remaining cold water.
Refrigerate the brine until it cools to below 40 degrees F. Add the fish, weighing it down with a reusable ice pack if necessary, and brine, refrigerated, for the appropriate length of time.
Yield: Two quarts (enough for two to three fillets, depending on size)
Planked Trout with Cayenne and Herbs
This is a fun recipe for the summer and one that actually requires a wood or charcoal fire because it's almost impossible with a gas fire. Just remember to remove the nails before serving.
2 large trout fillets or half trouts with skin, boned
Olive oil
1 teaspoon cracked black pepper
1 teaspoon cayenne powder
1/2 teaspoon salt
1 teaspoon each fresh herbs such as rosemary, marjoram, and thyme)
Choose two thick, non-resinous planks—no pine. Soak the planks in water for at least 1 hour.
Build fire of wood or charcoal in front of a rock or sand pile to reflect heat towards the fish. Let it burn down to hot coals. Pile the coals in front of the rock, or move them to one side of the kettle grill.
Mix together the pepper, cay-enne, salt, and herbs in a bowl. Center the fillets on the planks, skin side down. Drive a few nails part way into each fillet to hold it in place. Brush with oil and then sprinkle with the cayenne and herb mixture. Cover the ends of boards with foil to catch drippings and to keep boards clean. Stand the planked fish at an angle in front of fire, tail end down. Rotate the plank to provide even cooking. Cook until fish flakes in thickest part, about 20 minutes.
To serve, remove the nails.
Yield: 4 servings
Heat Scale: Medium
Smoked Bluefish with Chipotle Aioli
Bluefish, readily available along the East coast during the spring, summer and fall, lend themselves well to smoking, as larger bluefish have a strong, oily flavor. The Chipotle Aioli diminishes the strong taste. Other fish that could be used are salmon, sturgeon and haddock. This recipe also makes an excellent base for a bluefish pâté.
4 (10- to 12-ounce) bluefish fillets
Fish brine (recipe above)
Two cups hickory chips, soaked in water for two hours
Rinse the fillets under cold water and brine, refrigerated, for six to eight hours. Remove fish from brine, lightly rinse under cold water and air dry, skin side down, until a sticky surface forms on the flesh, about one to two hours.
Prepare a smoker for low temperature smoking or a grill for indirect cooking and smoke fillets at 90 degrees F for two hours. Gradually increase the smoker or grill temperature to 175 degrees F and continue cooking for another three to four hours or until the fish begins to flake and has an internal temperature of 140 degrees F.
Serve fillet on field greens and nappe with Chipotle Aioli (see below) or serve aioli on the side.
Yield: 4 servings
Heat scale: Mild
Chipotle Aioli
1/2 cup good-quality mayonnaise
1/2 cup sour cream
1 clove garlic, pressed
1 teaspoon lime juice
1 teaspoon dried Chipotle powder
Kosher salt
Cracked black pepper
In a medium mixing bowl, combine all the ingredients. Season to taste with salt and pepper. Refrigerate for at least one hour before serving.
Yield: 6 to 8 servings as an appetizer
Heat scale: Mild to medium
Grilled Mahi-Mahi with Pineapple-Jalapeño Salsa
Tuna steaks, swordfish, shark or any firm fish could be substituted if desired. The pineapple salsa is an excellent contrast in flavor, texture and temperature.
4 (6- to 7-ounce) mahi-mahi steaks, about one-inch thick
1/4 cup olive oil
4 tablespoons lemon juice, divided
1 tablespoon minced garlic
1 tablespoon minced ginger
Kosher salt
Cracked black pepper
In a medium mixing bowl, combine olive oil, two tablespoons of the lemon juice, garlic and ginger. Using a resealable food bag, marinate the fish, refrigerated, for one to two hours. Remove the steaks from the marinade and pat dry. Drizzle remaining lemon juice on fish and season fish with salt and pepper.
Preheat the grill for medium high direct cooking. Grill the fish for about 10 minutes per side.
Yield: 4 servings
Heat scale: Mild
Grilled Pineapple Salsa for Seafood
1 red onion, chopped
2 jalapeño peppers, minced
1/4 cup chopped fresh cilantro
1 cup unsweetened pineapple juice
1 tablespoon fresh lime juice
1 tablespoon red wine vinegar
2 tablespoons vegetable oil
6 slices fresh pineapple, about 1/2-inch thick
In a medium mixing bowl, combine the onion, jalapeño, cilantro, pineapple juice, lime juice and vinegar. Allow the salsa to marinate at room temperature. Preheat the grill for medium high direct cooking. Lightly coat the pineapple slices with the oil. Grill the pineapple slices for four minutes, flip and continue cooking other four minutes. Remove from grill, coarsely dice and add to the salsa. Refrigerate salsa at least two hours before serving.
Serve with grilled fish or alone as an appetizer.
Yield: 4 servings
Heat Scale: Mild to medium
Planked Asparagus & Peppers with Snappy Glaze
This recipe combines fresh asparagus, bell peppers and a Scotch bonnet-based hot pepper jelly to make a unique side dish for grilled foods.
1 1/2 cups water
1 tablespoon lemon juice
1 teaspoon kosher salt
2 pounds asparagus, cleaned and trimmed
2 tablespoons unsalted butter
1/2 cup Tennessee Gourmet™ Snappy Pepper Jelly
2 red bell peppers, seeded and sliced into rings
2 Northern White Cedar planks, soaked in water at least two hours
Olive oil
Cracked black pepper to taste
Kosher salt to taste
Bring 1 1/2 cups of water to a boil in a large sauté pan, and add lemon juice and salt. Add asparagus in a single layer, adding more water if necessary to keep asparagus covered. Return the water to a boil, reduce heat and simmer for three minutes. Using tongs, remove the asparagus and shock the asparagus in an ice bath to set the color and stop the cooking process. (Depending on the size of the sauté pan, it may be necessary to cook the asparagus in batches.)
Melt two tablespoons of butter in a small saucepan over medium-high heat. Add Tennessee Gour-met™ Snappy Pepper Jelly. Simmer, stirring occasionally, until the jelly melts. Keep warm.
Prepare the grill for indirect cooking. Brush planks with olive oil and place on preheated grill. Heat planks until smoking then reduce the heat to medium. Flip planks over and move to the indirect side of grill. Place a single layer of asparagus on planks and cover with a layer of sliced peppers. Close the cover and cook six to eight minutes or until vegetables are crisp-tender. Remove from grill, drizzle with pepper jelly sauce and season with salt and pepper.
Yield: 4 servings
Heat Scale: Mild to medium
Plank-Roasted Potatoes
Lightly coated with minced garlic, olive oil, salt and pepper, these roasted potatoes complement any grilled or smoked seafood.
4 medium Russet potatoes, cut lengthwise into quarters
3 tablespoons olive oil
3 cloves garlic, minced
Kosher salt to taste
Cracked black peppercorns to taste
2 Northern White Cedar planks, soaked in water at least two hours
In a large bowl, combine potatoes, oil, salt, pepper and minced garlic; toss to coat.
Prepare the grill for indirect cooking. Brush planks with olive oil and place on heated side of the grill. Heat planks until smoking and reduce the heat to medium. Flip planks over and move them to the indirect heat side of the grill. Place potatoes, cut side down, on the planks. Close cover and cook 20 minutes. Flip potatoes onto other cut side and continue cooking 25 to 30 minutes or until well browned and fork-tender.
Yield: 4 servings
Heat Scale: Mild
Seafood Brining Times
The following times are for brining fillets with the skin on. If the skin is removed, decrease the brining time by 20%.
Salmon fillets: 6 to 8 hours
1/2-inch thick fish fillet or steak: 4 hours
1-inch thick fish fillet or steak: 5 to 8 hours
Fillets may also be brined based on their weight:
1/2- to 1-pound fillet: 2 hours
1- to 2-pound fillet: 3 to 4 hours
2- to 3-pound fillet: 4 to 6 hours
After the fish has been brined, remove it from the brine and lightly rinse it under cold water. Place the fish on a rack, skin side down, and allow it to air dry until the flesh is dry to the touch and a thin glaze called a pellicle is formed, usually after an hour or two of air-drying. The fish is now ready for smoking. (A low-speed electric fan can decrease the amount of time needed for air-drying.)
The following two tabs change content below.
Grilling & BBQ Editor | Mike holds a "Doctorate of Barbeque Philosophy" (Ph.B.) degree from the Kansas City Barbeque Society. His book Mastering Barbecue has been called the "go-to" book for BBQ knowledge.
Latest posts by Mike Stines (see all)