Unlike clams which are dug from mudflats and oysters that are pried off rocks, scallops are free-swimming and are harvested in trawls, dredges, or by divers.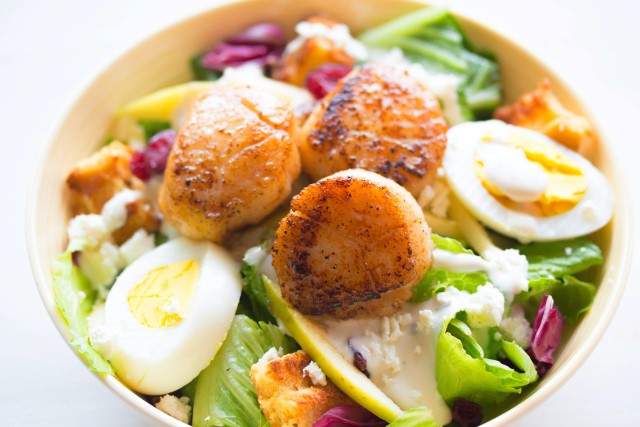 There are three types of scallops commercially available – sea, bay and calico. The sea scallop, the largest of the three, yields from 10 to 40 scallops per pound. They are excellent for grilling. The smaller and sweeter bay scallop yield 50 to 120 per pound. Bay scallops are sometimes eaten raw as ceviche. Many bay scallops are imported from China and Mexico. Bay scallops are best prepared by quick pan-searing. Calico scallops are smaller and less expensive than bay scallop as they are steamed opened and not shucked by hand. They are often substituted for bay scallops but are less tender and less flavorful. Calico scallops are harvested in the Gulf of Mexico, Florida's east coast and along the northern coast of South America.
In this country, only the adductor muscle of the scallop is eaten while in Europe the muscle and crescent-shaped pink/orange roe are consumed. Try to find scallops that have not been "wet-packed" meaning the scallop has been treated with sodium tripolyphosphate to improve appearance, prolong the shelf life and increase their weight up to 30 percent. (Less than reputable restaurants will sometimes substitute shark meat or skate wings for scallops!)
Grill-Seared Scallops
1 dozen sea scallops (U-10 or 12)
1/4 cup sake
1 tablespoon freshly grated ginger
1/4 cup brown sugar, packed
1/4 cup ketchup
1/4 cup chicken stock
2 tablespoons rice wine vinegar
2 tablespoons soy sauce
1 teaspoon cornstarch
2 cloves garlic, minced
1 teaspoon crushed red pepper flakes
Instructions
In a small bowl combine the sake and ginger. Place the scallops in a resealable bag and add the marinade. Marinate, refrigerated, for 30 minutes.
Combine the brown sugar, ketchup, chicken stock, rice vinegar, soy, cornstarch, garlic and crushed red pepper in a small saucepan. Bring to a low boil and simmer for one minute.
Remove the scallops from the marinade and thread the scallops onto skewers. Prepare a grill for medium heat (350 degrees F.) cooking. Grill the scallops for two to three minutes per side or until barely translucent. Brush the scallops with the sauce and serve.
The following two tabs change content below.
Grilling & BBQ Editor | Mike holds a "Doctorate of Barbeque Philosophy" (Ph.B.) degree from the Kansas City Barbeque Society. His book Mastering Barbecue has been called the "go-to" book for BBQ knowledge.
Latest posts by Mike Stines (see all)