The African Ghost Pepper sauce is not the featherweight of the African Dream Foods arsenal. It's a flamethrower that sends searing heat into your mouth without pity or remorse. But then it calms down a bit, maintaining a strong, steady pulse of heat for a couple of minutes. That's when its sweet and salty sides come out to play, making you want more of it. The company gave us four of its newer products to review and this here sauce was our first player in the game.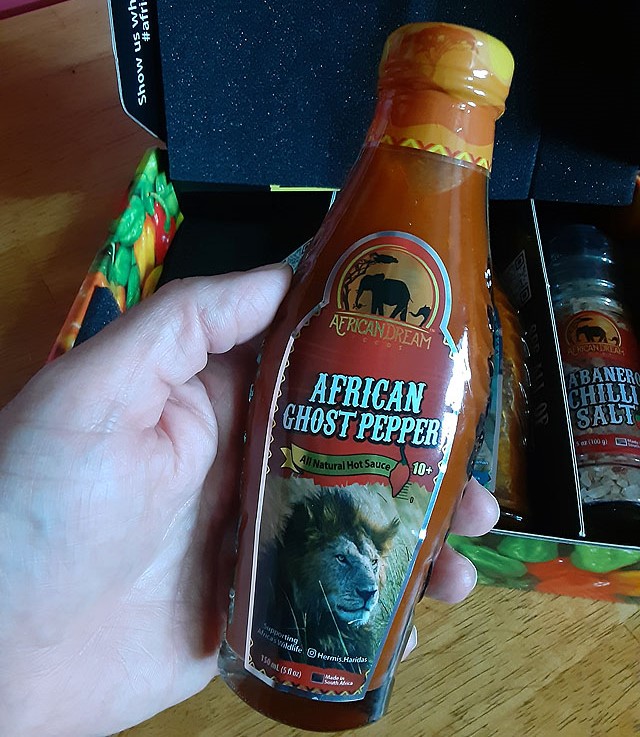 But first, a little back story. Way back in the ancient times of 2021, African Dream launched with the intent of bringing real-deal African flavor to the world. The idea being that Africa's climate and soil bring a unique distinctness to the flavor of chile peppers grown there, and that distinctness should translate into unique hot sauces, rubs, cooking salts, and so on. Beyond that, the company also uses its powers for good through supporting conservation efforts. You can read more about that here.
Having tried the African Ghost Pepper sauce over sausage and eggs (and by itself), I can attest to that uniqueness. You're definitely eating a ghost pepper hot sauce but there's something subtle to the peppery part that's a little off the beaten path of other ghost pepper offerings I've eaten. It starts with the smell. This sauce has a very strong pepper scent to it that reminded me more of a habanero than a ghost chile; as if the fruit flavor you get with a hab was also here and a lot more present than you'd find with a ghost. Almost as if a habanero and a bell pepper had a baby and gave it to ghost pepper parents to raise as their own. All of which are enhanced by the salt and sugar in the sauce itself. When I blasted my eggs and pork sausage with it over breakfast, I took it slow because I knew going in just how hot it was going to be.
For someone who likes their spicy in the mid-range (like I do), it only takes a little bit of the African Ghost Pepper sauce to ramp up the heat to that level. However, you won't get to enjoy the other flavors of the sauce too much if you go that route. For that, you need a bit more sauce, which means more heat. That's why I'd recommend this particular sauce for people that really like to set their teeth on fire. Especially if you and yours are big into wicked hot grilled shrimp and wings. Marinating either or both in this sauce will certainly do the job while adding good flavor beyond that initial assault on your taste buds. And since it's so simple in terms of ingredients, you can easily use it in concert with other flavors to come up with something that's really your own. Cost-wise, a 5 ounce bottle only runs you about $5.95. Inflation being what it is right now, that's a pretty decent price. See the full lineup of African Dream sauces and rubs, for mild to wild, for yourself.
The following two tabs change content below.
Managing Editor | Mark is a freelance journalist based out of Los Angeles. He's our Do-It-Yourself specialist, and happily agrees to try pretty much every twisted project we come up with.
Latest posts by Mark Masker (see all)