With grilling season just around the corner, Traeger is giddy to launch its all-new, totally redesigned Timberline grill. And they should be; they've packed a ton of features into what seems to be the griller's equivalent of a high-tech multi-tool. It's what Doctor Who would use if his/her sonic screwdriver were for outdoor cooking.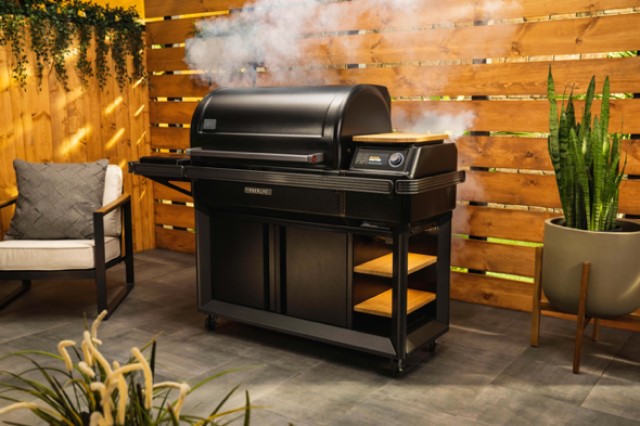 Boasting a killer combination of consistency, convenience, and versatility, the new Traeger Timberline Grill is an outdoor cooking virtuoso. The all-new Timberline hits the outdoor cooking experience running in a variety of ways:
Consistency
Traeger set the standard for precision temperature control and has taken it to an entirely new level of performance with its new smart combustion system. This system uses a series of smart sensors and cooking environment data to avoid flare-ups and provide an ultra-consistent cook for perfect results, every time.
Dialing in your temperature is easier than ever before with a vibrant, full-color touchscreen display. The new Timberline controller opens more functionality with guided onboarding, monitoring temperature, and performing grill maintenance checks.
Traeger's patented DownDraft Exhaust envelopes food with wood-fired goodness and an improved Super Smoke Mode delivers even more smokey flavor when activated thanks to a new FreeFlow firepot capable of producing maximum smoke output.
Full stainless-steel insulation delivers precision temperature regulation, no matter the weather. The new Timberline also features a redesigned heat delivery system thanks to radiant heat from a full stainless steel interior, resulting in hotter temperatures at the grates for improved searing capabilities.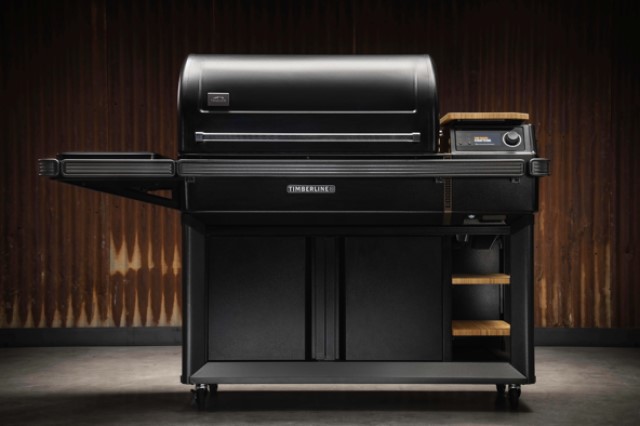 Traeger Convenience
A proprietary Traeger technology, the EZ-Clean Grease & Ash Keg system channels not only the grease, but also excess ash into one convenient, accessible unit for easy disposal.
Grilling freedom is at your fingertips with the Traeger App featuring WiFIRE Technology allowing consumers to control and monitor every aspect of the grill from anywhere. The new Timberline grill also features a more powerful 360 WIFI antenna than previous models for easier connection.
The new Timberline is equipped with two Traeger x MEATER Wireless Meat thermometers for precise monitoring of food temperature from literally anywhere utilizing WiFIRE technology via the Traeger App.
Traeger Versatility
A first-of-its kind in North America, Traeger's outdoor-rated Induction Cooktop provides fast and efficient heating for grilling versatility when sautéing onions, simmering sauces, searing steaks, or frying hot wings.
The patented Traeger P.A.L. Pop-And-Lock rail system provides endless possibilities to customize the Timberline with an entirely new set of accessories aimed at improving the cooking experience, all while ensuring cooks are seamless and efficient.  ModiFIRE accessories allow customers to utilize a variety of cooking styles by easily swapping out the cooking surface of their grill.
Consumers looking to outfit their patio with the ultimate backyard setup can now build the new Timberline grills into their pre-existing or newly fabricated spaces with ease.
The new Timberline ($3,499) and Timberline XL ($3,799) represent the pinnacle of Traeger's premium product offerings. Both grills will be available later this spring online and key retailers across the US and Canada.
The following two tabs change content below.
Managing Editor | Mark is a freelance journalist based out of Los Angeles. He's our Do-It-Yourself specialist, and happily agrees to try pretty much every twisted project we come up with.
Latest posts by Mark Masker (see all)