Cambodian cooking is very similar to Thai cooking, which shares the influence of Vietnam, China and Indonesia. It can be characterized by the uses of lemongrass, galangal, ginger, garlic and many fresh water fish, most of which are not available in the United States. We have used snapper in this recipe, as it bears a close resemblance to its Indonesian counterpart (Basa or Swai). This recipe requires advance preparation.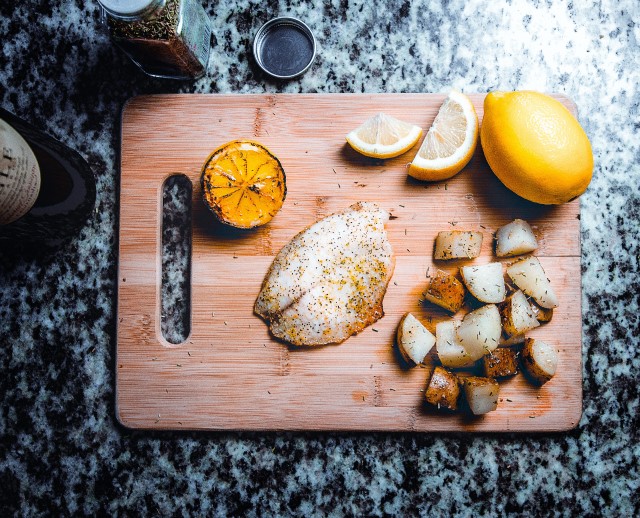 Tantalizing Catfish (Amok) Ingredients
1 teaspoon thin slices peeled galangal
1 clove garlic, peeled
1 1/2 tablespoons finely julienned kaffir lime leaves
1/4 teaspoon turmeric powder
1/4 cup minced lemongrass
5 dried piquin chiles, seeded and soaked 10 minutes in lukewarm water, chopped fine
2 tablespoons fish sauce (Nam Pla)
1 egg, well beaten
2 tablespoons granulated sugar
2 cups coconut milk (not coconut cream)
1 1/2 pounds snapper (or catfish or trout) fillets, sliced into strips 1/2-inch thick
8 banana leaves, cut 14 inches by 10 inches
1/2 pound fresh spinach, stems removed
Instructions
In a blender or food processor, combine the galangal, garlic, one teaspoon of the kaffir lime leaves, turmeric, lemongrass, chiles, fish sauce, egg, sugar and coconut milk. Process, scraping the sides of the container occasionally, until ingredients are puréed.
Combine the contents of the blender and the catfish in a glass bowl, coating the fish thoroughly. Cover and refrigerate at least 5 hours or overnight.
Put one piece of banana leaf atop another, to make a double thickness. Place one quarter of the spinach leaves into the center and top with one-quarter of the fish mixture (about one cup). Garnish with a pinch of julienned kaffir lime leaves. Fold the two layers of banana leaves lengthwise in thirds, then fold the ends up to the top and secure with toothpicks. Keep the sides up to prevent leaking. Repeat the procedure, making four packages.
Place the bottom rack of a 9- or 10-inch bamboo steamer in a wok and pour in enough water to come to about an inch below the steamer. Put two fish packages on the bottom rack. Fit a second rack above it and put on the remaining two packages. Cover and place over high heat for about 5 minutes to bring to a boil. Reduce the heat to medium low and cook for 45 minutes. To serve, remove the toothpicks and open the packages.
Photo by Spencer Selover from Pexels
The following two tabs change content below.
Grilling & BBQ Editor | Mike holds a "Doctorate of Barbeque Philosophy" (Ph.B.) degree from the Kansas City Barbeque Society. His book Mastering Barbecue has been called the "go-to" book for BBQ knowledge.
Latest posts by Mike Stines (see all)