Although it does not sound particularly appetizing, this Singapore Fish Head Curry, transformed a bit by Malaysian ingredients, is truly delicious–if guests can get accustomed to the fish's eyeball staring at them!  I devoured this in an Indian-style recipe in Singapore, but Mary Jane averted her eyes!  A readily available fish that works well in this dish is red snapper.  Diners, eating communally from a single bowl, pick the meat off the head with a fork or chopsticks, then dip the meat in the curry sauce and place it on the rice on their plate, then eat it. We originally ran this recipe in the very tasty A World of Curries. Pick up your digital copy for tons of other great ideas.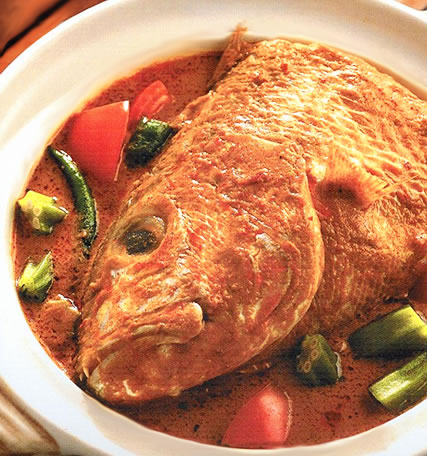 Singapore Fish Head Curry Ingredients
1/4 cup vegetable oil
2 curry leaves, crushed (optional)
1-inch piece galangal, peeled and grated, or substitute ginger
2 cloves garlic, chopped
2 medium onions, sliced
1 cup coconut milk
1/4 cup Indonesian Curry Paste, recipe here
1/2 teaspoon salt
1 teaspoon sugar
3 tomatoes, coarsely chopped
2 teaspoons tamarind paste dissolved in 1 cup water
3 small, fresh, hot green chiles, such as serrano, seeds and stems removed, cut lengthwise in half
1 large fish head (about 1 pound)
6 small okras, parboiled and sliced
Instructions
Heat the oil in a wok and fry the curry leaves and galangal for two minutes.  Add the garlic and onions and fry until the onions are soft.  Add the coconut milk and curry paste and stir-fry for about 5 minutes.
Add the salt, sugar, tomatoes, and tamarind and cook for 5 minutes.  Add the chiles, fish head, and okra and simmer, uncovered, until the meat starts to fall off the fish head, about 45 minutes.
Yield: 2 to 4 servings
Heat Scale: Hot
The following two tabs change content below.
Publisher | Christened the "Pope of Peppers" by The New York Times, Dave DeWitt is a food historian and one of the foremost authorities in the world on chile peppers, spices, and spicy foods.
Latest posts by Dave DeWitt (see all)