By Sharon Hudgins
One of the many delights of spending the Christmas-New Year holidays in Paris (France, not Texas) is sampling the seasonal specialties in the bakeries, pastry shops, and delicatessens. Display windows are filled with tempting cakes, cookies, confections, and colorful gourmet foods-to-go—all designed to bring warmth and cheer to this cold, dark time of year.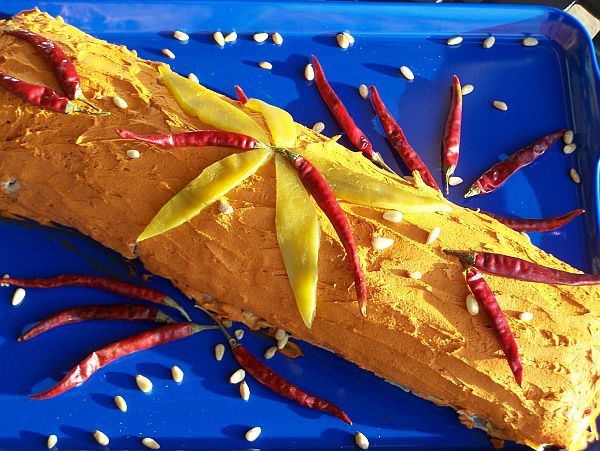 No French Christmas would be complete without a Bûche de Noël, or Christmas Yule Log, on the family table. Made from a sheet cake slathered with buttercream, rolled up like a jellyroll, and covered with buttercream "bark," the Bûche de Noël represents the big log that was traditionally burned in French farmhouses on Christmas Eve, to light the way for the birth of the Christ Child, and to symbolize the light of redemption that Christ brought to the world.
As France became more urban and city dwellers didn't have large fireplaces for burning wood, the Yule log morphed into a sweet cake that looked like part of a felled tree in the forest, decorated with cute little meringue "mushrooms" and marzipan "leaves," all lightly dusted with powdered-sugar "snow."
One December a friend of mine from New Mexico, transplanted to Texas, invited me to a Southwestern-theme potluck dinner at her house. Wanting to bring a dish that was also Christmasy, I decided to make a spicy version of French Bûche de Noël for the buffet table. My savory, no-bake, Southwestern "cake" was made with layers of flatbread rolled up with cream cheese and red and green peppers inside, covered with "bark" made from cream cheese flavored with New Mexico chile powder, decorated with more chiles, and served as an appetizer instead of a dessert.
That chile-spiked Yule log was such a hit with the dinner guests that I made it again for a friend's housewarming in Santa Fe the next winter. Try making this colorful appetizer for your own Christmas party this year. If you're a chilehead like me, it might become one of your own holiday traditions, too.
SOUTHWESTERN BÛCHE DE NOËL (Yule Log)
Note: It's important to use whipped cream cheese for the "bark" on the outside of this Yule Log. For my recipe I used 2 large sheets of Armenian lavash (available at Middle East grocery shops), but you can use smaller thin flatbreads slightly overlapped to produce 2 large flatbread layers of the correct size.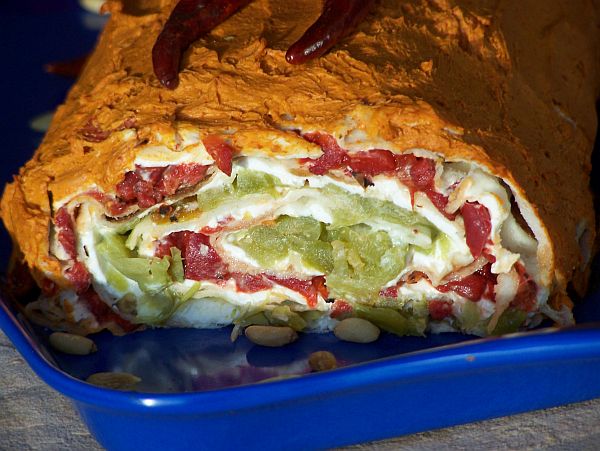 Log Ingredients
Two 8-ounce packages cream cheese, at room temperature
4 to 6 large garlic cloves, put through a garlic press
2 cups finely diced roasted-and-peeled New Mexico green chiles (mild, medium, or hot)* [or two 13-ounce containers of Bueno frozen diced green chiles, thawed)*]
2 cups finely diced roasted-and-peeled fleshy mild red peppers* [or 1-1/2 16-ounce jars Mezzetta roasted red bell peppers, patted dry with paper towels, then cut into 1/4-inch dice*]
Two 12 x 16-inch very thin lavash flatbreads [or any combination of smaller thin flatbreads overlapped to make 2 large layers of flatbread, each measuring 12 x 16 inches]
Garnish Ingredients
8 ounces whipped cream cheese, at room temperature
2 tablespoons New Mexico red chile powder (mild or medium-hot)
4-ounce can Ortega mild green chiles [OR 3 large roasted-and-peeled mild green chiles]
Several whole dried red de Arbol chiles
Fresh cilantro or rosemary sprigs
2 tablespoons pine nuts, toasted in the oven at 300° F. for 7 to 10 minutes
*Measure the diced peppers after draining them thoroughly in a large sieve and pressing with a wooden spoon to extract as much liquid as possible.
Instructions
The day before serving:
Use a fork to mash together the standard (not whipped) cream cheese and garlic until well combined.
Place 1 of the lavash flatbreads on a flat surface covered with wax paper. (If you don't have a single large lavash flatbread, use smaller flatbreads slightly overlapped to produce one layer measuring 12 by 16 inches. Stick the overlapped parts together with a thin smear of cream cheese.)
Use a rubber spatula to spread half the cream cheese mixture evenly over the surface of the lavash, up to 1/2 inch from each edge of the flatbread. Spread all of the diced green peppers evenly on top of the cream cheese.
Put the other lavash flatbread on another wax paper-covered surface, and spread the bread evenly with the remaining garlic-flavored cream cheese, up to 1/2 inch from each edge of the flatbread. Carefully set the lavash, cheese side up (and without the wax paper), on top of the lavash with green peppers. Spread the diced red peppers evenly on top of this layer of lavash.
Starting with one of the long (16-inch) sides of the stacked lavash, roll up both layers together, jellyroll style, as tightly as you can without tearing the lavash. Wrap this lavash "log" tightly in 2 layers of plastic wrap, tucking in the ends of the plastic wrap securely. Place the log on a baking sheet and refrigerate for 24 hours.
The next day:
One hour before serving, mix together the whipped cream cheese (already at room temperature) and 2 tablespoons New Mexico red chile powder, to make the rust-brown colored "bark."
Carefully transfer the chilled lavash log to a long serving platter. Unroll the log from the plastic wrap and arrange it on the serving platter, seam side down.
Use a rubber spatula to spread the chile-flavored cream cheese evenly over the top and sides of the log. Use a spatula, fork, or your fingers to score lines in the cream cheese to simulate tree bark.
Decorate the log with "leaves" cut out of canned whole green chiles (patted dry with paper towels), and add a few whole dried red chiles for color contrast. Place some fresh cilantro sprigs or rosemary sprigs around the base of the log, and sprinkle a few toasted pine nuts on top.
To serve, cut the log crosswise into 1-inch-thick pieces. Makes 16 servings.
Sharon Hudgins is the author of T-Bone Whacks and Caviar Snacks: Cooking with Two Texans in Siberia and the Russian Far East (University of North Texas Press, 2018). See more of her food articles at www.sharonhudgins.com
The following two tabs change content below.
Managing Editor | Mark is a freelance journalist based out of Los Angeles. He's our Do-It-Yourself specialist, and happily agrees to try pretty much every twisted project we come up with.
Latest posts by Mark Masker (see all)