Harald Zoschke, our good German chilehead friend who lives by Lake Garda in Italy, loves New Mexico–or Hatch–chile so much he's written a SuperSite article that involves all of his favorite things about the fruit. He prefers green chile to red, and particularly loves the late summer and early fall in New Mexico because that when the harvest produces his favorite fruits. Here's an excerpt from his article: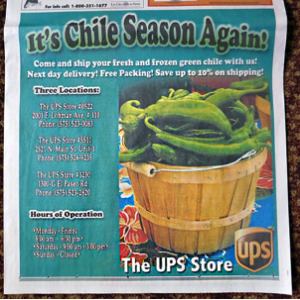 If you live in New Mexico or surrounding states, you're fortunate to have your fresh green chiles roasted in late summer, so you can freeze them for use throughout the year. Or you can order frozen green chiles from New Mexican producers. When visiting the Hatch Chile Festival we even found this clever newspaper ad by a local UPS store, offering shipping of fresh and frozen green chile!
Read the entire article here.
The following two tabs change content below.
Publisher | Christened the "Pope of Peppers" by The New York Times, Dave DeWitt is a food historian and one of the foremost authorities in the world on chile peppers, spices, and spicy foods.
Latest posts by Dave DeWitt (see all)