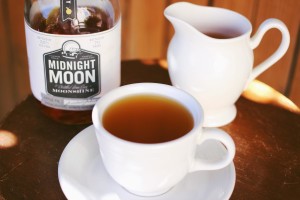 Writing and Photography by Greg Mays
I recently went to the annual Cider Festival here in Albuquerque and I bought a delicious bag of local apples to munch on. This got me thinking that this is also a time of year that you start seeing a lot of apple-based cocktails.
A few years ago, the moonshine craze really took off in the distilled spirits world, the result of a perfect storm of notoriety from Discovery's TV show "Moonshiners," and a rush of "legal" moonshines from the South to your liquor store shelves.
The result is that in larger liquor stores, you may see as many as three varieties of mason-jarred 'shine from popular brands like Ole Smoky, Sugarlands, or Midnight Moon. Depending on the brand, there is some minor variety in the product offerings (Sugarlands alone offers an unaged rye, for instance), but honestly, it's a little hard to tell them apart from each other. Each of these brands come in a sealed mason jar, which is incredibly difficult to pour liquid from (it's no surprise they all sell pour spouts on their websites).
While each of the larger moonshine brands offer unaged corn whiskeys (aka "Moonshine"), you'll also see a common theme of flavors like blackberry, lemonade, or sweet tea 'shine. A predominant, popular flavor that they all seem to prefer is apple pie, and I've found a jar of Midnight Moon Apple Pie to be indispensable this time of year.
The primary reason I've settled on Midnight Moon, at least for their apple pie 'shine, is twofold: first, the flavor is great. Plain moonshine can be pretty swampy and sour, but Johnson's have sweetened theirs with apple juice and spices. Because they've chosen juice as a sweetener in this case, their apple pie moonshine is sweet and smooth without being sticky from added sugar. You can easily drink this 'shine on the rocks and not be stuck with "sweater teeth."
The second reason for choosing Midnight Moon over Sugarlands or Ole Smoky is they really commit to the humor of the "jar of moonshine" game by adding a cinnamon stick in the bottom of their jars. When you have three choices of apple pie moonshines, why not choose the one with the cinnamon stick in it, right?
So now it's time to present you with the recipe that I serve a lot this time of year, at everything from Halloween to Christmas parties. It's a perfect stovetop drink on cold winter nights, and it's incredibly easy to make. Here's how you do it.
Mountaineer Punch
Author:
Ingredients
1 jar of Junior Johnson's Midnight Moon Apple Pie Moonshine
1 gallon of spiced apple cider
Instructions
On a stovetop, heat the above in a stockpot on low heat. Once the drink is warm, place a ladle in the pot and allow your party guests to serve into mugs. There are lots of ways you can change this recipe up, too, like doubling the amount of cider for a lower-alcohol drink, or adding a bunch of cinnamon sticks and dried orange peel to the pot.
Greg Mays is the Managing Editor of www.simple-cocktails.com.
The following two tabs change content below.
Cocktail Editor | Greg is the classic cocktail aficionado and recipe developer at Simple Cocktails, his "place for the intimidated home bartender to shed some fear."
Latest posts by Greg Mays (see all)