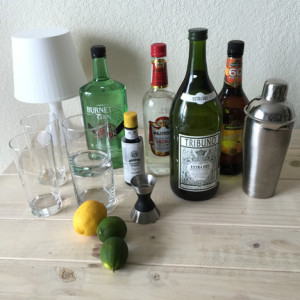 As a reader of the Burn Blog!, you may not know much about my own site, Simple Cocktails. I started my blog 5 years ago, and shortly afterwards I read this study which basically says that Americans spend the same amount of their income on alcohol that they always have, but the amount they spend on hard alcohol for their home (what I'd call home bartending) has dropped dramatically in the last 50 years.
I really picked up on home bartending as my cause, because I feel like home entertaining is a vanishing art, and because there are very few websites out there that are specifically geared toward home cocktail-making.
As I began to buy cocktail books and study home bartending, I began to realize why people may not do it as much as in the Mad Men era: it's intimidating. As I flipped through the pages of my first book, 750 Cocktails and Mixed Drinks by Stuart Walton, I realized that most of the drinks required ingredients that were expensive or required 4, 5, 6, or more ingredients to make, and a lot of investment in a liquor portfolio to boot.
Overwhelmed, I began to earmark the pages on that book that had cocktails containing 2 liquors or less, and in the end, I had about a dozen recipes and some idea of what I needed to shop for. In the midst of founding my own cocktail blog, I began to create a shopping list that I could pass on to others who wanted to start a small home bar but were also overwhelmed by the assortment and variety at their local liquor store.
In this multi-part series, I'm going to take you on that same journey I started on. Today, I tell you how to spend your first $50 on your home bar. There are about a dozen tried-and true cocktails you can make with the items on this list, and it makes a great starter set to start experimenting with mixed drinks.
Now, go shopping for:
1 bottle of gin (spend about $15 on this)
1 bottle of vodka (spend about $10 on this)
1 bottle of dry vermouth (spend about $7 on this)
1 bottle of triple sec (spend about $10 on this)
1 bottle of cocktail bitters (Angostura recommended)
5 Lemons
5 Limes
A jar of olives
Here are 2 cocktails to get you started:
Borodino
Author:
Ingredients
1 oz vodka
1 oz gin
1 oz triple sec
Instructions
Stir with ice,
Strain into a cocktail glass
Garnish with a lemon peel
Brazen Hussy
Author:
Ingredients
1 oz vodka
½ oz lemon juice
1 oz triple sec
Instructions
Shake with ice,
Strain into a cocktail glass
Garnish with a lemon peel
Next week, we'll start to take a step up in quality as well as adding some brown liquor into the bar, plus more simple cocktails!
Greg Mays is the Managing Editor of www.simple-cocktails.com.
The following two tabs change content below.
Cocktail Editor | Greg is the classic cocktail aficionado and recipe developer at Simple Cocktails, his "place for the intimidated home bartender to shed some fear."
Latest posts by Greg Mays (see all)