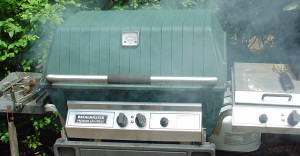 I've owned a lot of grills and smokers over more than 40 years of outdoor cooking; some were good, others not so. The best grill I've ever had – and still have – is my Broilmaster P-3 sold by Empire Comfort Systems.
I purchased my Broilmaster more than 15 years ago and it's still going strong (albeit some parts have been replaced… the burner and igniter among the most common)… but Broilmaster stands by their product and its lifetime warranty for critical components. Broilmaster customer support is fantastic and the user manual is well-written and comprehensive.
One of the unique features with Broilmaster is you can build your own grill customizing it as you desire with different mounting options (pedestal mounting, a wheeled cart or as a built-in), shelves (wooden, plastic or stainless steel) and a 15,000 BTU side burner. Most manufacturers provide no options; you get what comes out of the box.
Made in the U.S., the Broilmaster is fueled by propane (20-pound tanks) or natural gas. Although Broilmaster recommends a 20-pound tank that fits into the cart base, I use a 30-pound tank that is outside of the cart. The grill features side-by-side burners that make indirect cooking easier than grills with front and back burners. The grill has 695 square inches of total cooking area and adjustable three-level cooking grids for grilling, baking and warming. Models newer than mine can include a slide-out smoker tray to add wood chips.
The Broilmaster P-3 is not inexpensive… my "tricked out" model with side and front shelves, a smoker shutter, ceramic "flavor enhancers" instead of briquettes and a side burner was about $1,600. But, in my opinion, it was – and still is – well worth the investment! Forget about grills that rust out and need to be replaced every few years.
The following two tabs change content below.
Grilling & BBQ Editor | Mike holds a "Doctorate of Barbeque Philosophy" (Ph.B.) degree from the Kansas City Barbeque Society. His book Mastering Barbecue has been called the "go-to" book for BBQ knowledge.
Latest posts by Mike Stines (see all)