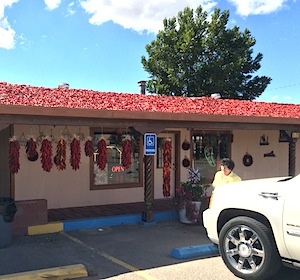 On October 9-10, 2014, I was in Hatch, New Mexico, checking on our superhot chile field on the Lytle farm. Jimmy Lytle is growing four 200-foot-long rows of 'New Mexico Scorpions' as a test and they are doing great. While there, I stopped by his wife Jo's shop, the Hatch Chile Express, to take a look at her retail chile processing facility, and I noticed that she still dehydrates red chiles in the traditional manner of placing them on the room of her shop so they will dry quickly in New Mexico's warm sun. Why spend money on propane or natural gas to dry them in a furnace dryer when you can dry them naturally for free? It's just wonderful to see a great tradition like this being upheld in our over-technologized world. And besides, is that great advertising, or what?
That's Jo Lytle in front of the truck, and her store website, with mail-order chiles of all kinds, can be viewed here.
The following two tabs change content below.
Publisher | Christened the "Pope of Peppers" by The New York Times, Dave DeWitt is a food historian and one of the foremost authorities in the world on chile peppers, spices, and spicy foods.
Latest posts by Dave DeWitt (see all)