In almost any chile-pepper-producing country, the fiery pods are worked into strings to ease drying. They're used in the kitchen, but also as home decoration. In Mexico and the U.S. Southwest they're called ristra, in the French Basque country corde, and in Italy treccia.
Some remarkable records were accomplished with these spicy strings. In 1997, James R. Johnson of Edgecombe County (North Carolina) produced a 157.7-foot-long (316,69 m) chile ristra at the New Mexico State Fair in Albuquerque, which got him into the Guinness World Records. 20150 chiles were used for this feat. In the summer of 2010, Calabrian pepper producer Giuseppe Sarubbi and four helpers built a ristra of no less than 370 feet (113 m), using 27632 peperoncini, as the fiery fruit is called here. Later the monstrous chain was sold in pieces for charity at the Peperoncino Festival in Diamante, Calabria (Southern Italy).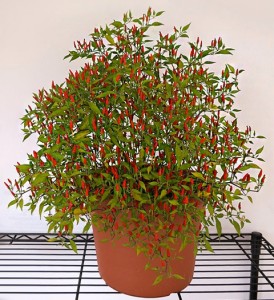 By creating what he thinks is the smallest ristra in the world, our own Harald Zoschke has established sort of an anti-record. Using a Chinese ornamental chile plant with pods only 10 mm in length and a diameter of 2-3 mm, the author of "Das Chili Pepper Buch" and "Chili Barbecue" built a ristra that's only 3.15 inches (8 cm) long. "Although bred for looks and not for flavor, ornamental peppers are edible," Harald said. "Many of them just don't taste that great, but typically they carry a lot of heat."
The following two tabs change content below.
Managing Editor | Mark is a freelance journalist based out of Los Angeles. He's our Do-It-Yourself specialist, and happily agrees to try pretty much every twisted project we come up with.
Latest posts by Mark Masker (see all)