Santa may know if I've been naughty or nice, but I'm hoping most of my friends and relatives don't. I like to think my minions eliminated all the witnesses, but you never know. Regardless, each year I cruise Amazon.com and make a Christmas list there for the world to see.
This time, though, I'm working on a list for you. Whether you're a chilehead or barbecue freak, or related to one, you can find plenty of goodies online. This list (and the ones to come over the next two weeks) are comprised of oddities and gizmos that your favorite enthusiast may not already have.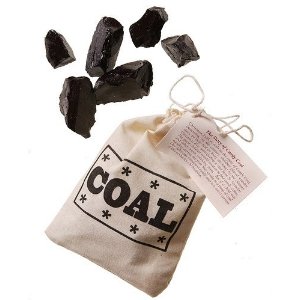 Hammonds
Bag of Coal Cinnamon Candy
$7.02
This just screams "Dave DeWitt" to me. It's a cinnamon flavored candy that comes in a 2 ounce bag. It's not technically chile pepper or barbecue-related, but it is coal-like.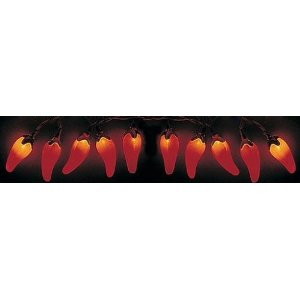 FX
Red Hot Chili Pepper String Lights – Set of 10
$10.74
Almost as cool as my dad's "Mess O' Trout" light set, this one measures 8 feet in length. It comes with ten 1″ x 3 1/4″ chile pepper lights. You can connect it with other sets to really spice up your Christmas tree.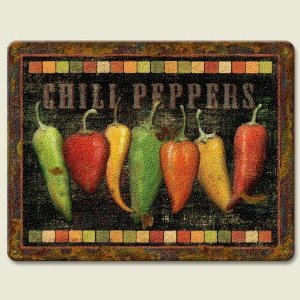 Highland Graphics
Red Hot Chili Pepper Southwestern Cutting Board
$15.88
This tempered glass cutting board works for either cutting or serving. It measures 8"x10" and 1/4" thick. You could call it a "glass act" but doing so automatically puts you on the fast track to a bag of coal list (see above).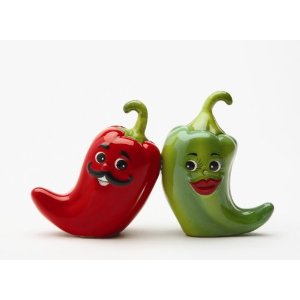 Pacific Trading
Hot Chili Peppers Magnetic Salt & Pepper Shakers
$12.21
These ceramic shakers are 3 1/2" x 2 1/2" wide. Nice listers put salt and pepper in them. Naughty listers use cayenne pepper and don't tell anyone.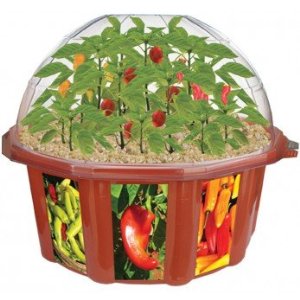 DuneCraft
DuneCraft Hot Peppers Sprout and Grow Greenhouse
$6.94
Windowsill projects like this are a great way for us apartment dwellers to grow our own peppers. These gardens are designed to be started inside and planted outside. This kit comes complete with seeds, greenhouse, planting mixture and instructions.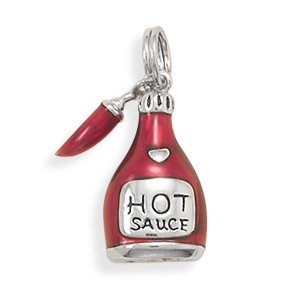 Silver Castle Jewelry
Sterling Silver and Rhodium Plated Charm Pendant Hot Sauce Bottle
$27.98
This hot little item is great for your inner hot sauce pimp. It's a hot sauce bottle with a movable chile pepper charm that's made of 925 Sterling silver with a red enamel finish. The bottle is 3 dimensional to boot.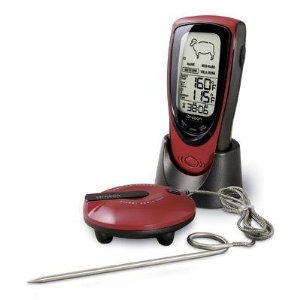 Oregon Scientific
AW131 Grill Right Wireless Talking Oven/Barbeque Thermometer
$34.99
If I knew any tech geek barbecue chefs I'd give this in a nanosecond. It's an oven/barbeque wireless thermometer with digital LCD screen that sends out verbal or audio alerts when food reaches a certain doneness. Temperature display ranges from 32 to 572 degrees F and it features 8 entree programs, 4 doneness selections, and 2 verbal and 3 audio alert options. Transmission ranges up to 330 feet away. The unit has a stainless-steel 6-inch detachable probe and, unlike that overpriced toy your kid's going to forget December 26th, batteries are included.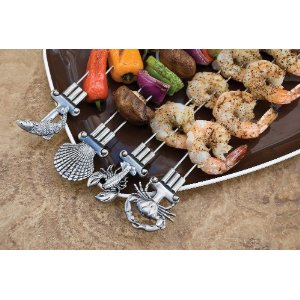 Charcoal Companion
Double Prong Coastal Grilling Kabob Skewers, Set of 4
$16.34
I love skewers but hate re-arranging food when I flip them. This set has double stainless steel prongs that keep food from spinning when you turn them over, though. They're 14" long and the set comes with one of each icon: crab, lobster, scallop and fish.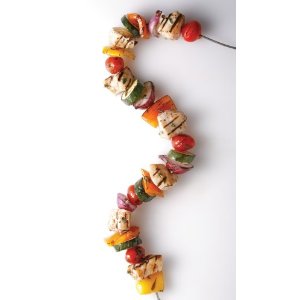 Fire Wire
Stainless Steel Flexible Grilling Skewer, Set of 2
$8.06
Fire Wire really should have named this something cooler, like Grill Cobra. It's a flexible cable style skewer that allows you to more effectively use the space on your grill by letting you shape it as needed. Its flex design also lets you marinate food in the bag while skewered.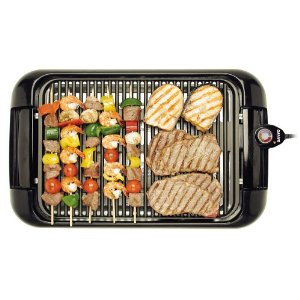 Sanyo
HPS-SG3 200-Square-Inch Electric Indoor Barbeque Grill, Black
$39.99
Up in Alaska, my father grills steaks on his outdoor gas grill even in the frigid depths of winter. I'm not nearly that manly, so when it dips down below 50 degrees here in Los Angeles, I prefer to cook indoors. Sanyo's 1300-watt indoor barbeque grill has a 200-square-inch nonstick cooking surface. The temperature control is adjustable and its dishwasher-safe drip pan catches run-off fat for healthier cooking. Measures 23 5/8" x 3 7/8" x 14 1/2."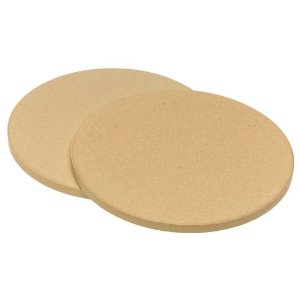 Old Stone Oven
4444 Pizza for Two 8 1/2 Inch Round Pizza Stones
$24.97
If you like pizza, this is one of those gifts you give your spouse that's really for both of you. Made of the same firebrick material that lines blast furnaces and kilns, I'm pretty sure it can take the rigors of your backyard grill—unless you live in a volcano.
The following two tabs change content below.
Managing Editor | Mark is a freelance journalist based out of Los Angeles. He's our Do-It-Yourself specialist, and happily agrees to try pretty much every twisted project we come up with.
Latest posts by Mark Masker (see all)