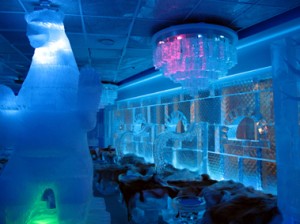 Back in the day, putting someone on ice in Vegas involved a gunshot and a shovel. Now it means going to Minus5 Ice Bar for a cocktail. It's an ice bar where everything from the seats, tables, and bar to the glasses is made from 100% frozen water. Including, of course, the frozen sculptures that serve as the place's décor. Named for its constant frosty temperature of minus five degrees (twenty-three degrees Fahrenheit), it's become one of the more interesting watering holes in Sin City. This being December, when Vegas is cheap and winter abounds, I thought I'd show you around the place.
One of them, anyway. Minus5 started off in New Zealand and immigrated to the U.S. Now there are two of them in Las Vegas (one at Mandalay Bay, another at Monte Carlo) where you can cool off right after a hot streak. The company has its own ice carver who re-invents the bar every 6-8 weeks to keep the place fresh. Sculptures usually reflect the season, location, wildlife, or even themes for private functions.
I visited the one at Mandalay Bay. It's upstairs from the casino, above the House of Blues, next to the escalator. Walking in, the place looks like a normal bar but with some Nordic décor. The bartender wore a snowsuit with the upper part unzipped and the arms tied around her waist. This is the outer area for those wimps who are afraid of a little cold. Once you decide to go into the ice bar, the entry fee is $15 plus tax (fur coat and VIP packages are also available). They start off by dressing you up in an insulated parka, gloves, and boots.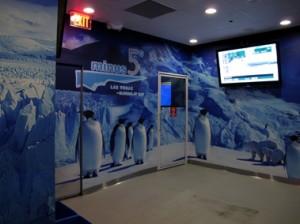 From that point it's on to a refrigerated prep room. Think of it as the airlock before you go EVA, only you're not going on a spacewalk. It's a painted room that's colder than the outside world but not as cold as the ice lounge proper. You stand in here to get acclimated, then you're let loose into the frozen ice.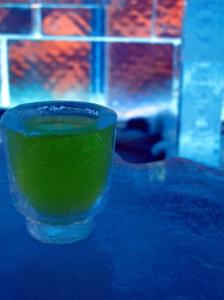 I must say I was impressed. Maybe that's because I grew up in Alaska and love snow or because blue is my color of choice. Either way, I enjoyed myself. The manager urges you to use a coaster so your glass won't slide on the bar or stick to anything. Guests can explore the ice bar and relax on ice couches covered in deer skin, while sipping on a wide range of cocktails made from premium vodkas served in custom-designed glasses. While I was there, I tried the Freezing Apple and the Iceberg signature cocktails, both of which tasted great and cost $12. A roaming photographer will also take shots of you here so you'll have proof to show your friends. Printed photos await guests as they complete their tour and guests are given the opportunity to purchase anything from an Eskimo hat, to the Minus5 clothing gear.
Tip: The booze didn't hit me until after I left the bar and my circulation returned to normal. You may want to watch out so you don't overdo it.
If you want to see more of Minus5 Ice Bar and its cool ice sculpture, you can see a photo gallery on our Facebook page.
The following two tabs change content below.
Managing Editor | Mark is a freelance journalist based out of Los Angeles. He's our Do-It-Yourself specialist, and happily agrees to try pretty much every twisted project we come up with.
Latest posts by Mark Masker (see all)