Photos by Wes Naman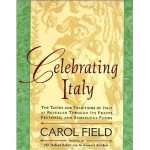 This year Dave DeWitt decided that Italian would be the theme for his Thanksgiving dinner. It turned out so well, he decided to share a few recipes with everyone who might be looking for an alternative approach for Christmas or New Year's. The source of these traditional recipes is the book Celebrating Italy by Carol Field. You won't find chiles or BBQ sauce in these recipes, but the dishes were amazing…and you can always spice 'em up if desired. A touch of cayenne in the panpepato, for instance, would be great.
Italians are passionate about their food and love to celebrate together. At annual village festivals the food is cooked in mammoth proportions and happy crowds sit and enjoy a communal meal that is a ritual of connection and neighborly love. In this text, Carol Field takes the reader to these civic feasts and highlights their special, ancient recipes.
If you don't want to go whole-hog on the Italian theme, any of these recipes would be a fantastic addition to your own holiday dinner. Buon apetito!
Tacchino alla Porchetta
(Herb-Scented Roast Turkey from Nereto)
This is turkey as it is served on Saint Martin's Day, November 11, in Nereto.
1 turkey (10 to 11 pounds), cleaned
Salt and pepper
6 cloves garlic, roughly chopped
1/3 to 1/2 cup chopped fresh rosemary
2 bay leaves
1/4 cup olive oil or lard
4 cloves garlic, roughly chopped
1/4 cup fresh rosemary leaves, loosely packed
1 bay leaf
2 cups dry white wine
Clean the turkey well, removing the giblets. Salt and pepper the cavity and the interior of the neck. Chop together the first amount of garlic, rosemary, and bay leaves and place it in the cavity and interior of the neck. Skewer and truss the turkey and set in a well-oiled baking pan. Rub the turkey with the olive oil or lard. Rub some of the second amount of garlic, rosemary, and bay leaf mixture into the skin, but let some fall to the bottom of the pan It will make the juices delicious.
Baking: Heat the oven to 450 degrees F. Set the turkey to cook at high heat 15 to 20 minutes, turn the temperature to 350 degrees F, and continue roasting for 2 1/4 to 2 1/2 hours. After the first half hour, pour half the white wine over the top of the turkey and baste every half hour, adding additional wine as needed. At midpoint in the cooking, remove the turkey from the oven, take out the skewers, and cut it in half. Return the turkey to the oven skin side down, baste well with the cooking juices, pouring them into the now-available cavity as well as over the skin. Continue roasting and basting the turkey until the leg wiggles easily, 1 1/4 to 1 1/2 hours later. Let it rest 15 minutes and serve with the basting juices.
Gnocchi di Zucca
(Pumpkin Gnocchi with Shavings of Smoked Ricotta and Sage Leaves)
Makes 4 to 6 servings
1 pound 2 ounces pumpkin or butternut squash weighed before baking…it should measure about 1 cup grated or riced
2 eggs
Grated zest of 1 lemon
Pinch sugar
2 teaspoons brandy
1/4 teaspoon freshly grated nutmeg
1 teaspoon salt
Pepper
1 1/2 cups unbleached all-purpose flour
3 1/2 tablespoons unsalted butter, very soft
3 or 4 sage leaves
1/4 cup shaved smoked cheese; ricotta is best but smoked mozzarella is delicious too
Heat the oven to 375 degrees F. Cut the pumpkin or butternut squash into large chunks and remove the seeds. Bake on an oiled sheet until chunks are tender when poked with a fork. Cool them enough to handle comfortably and peel them. You may either press the squash through a ricer or set the squash in a food processor fitted with the grating disk. Do not puree it in the processor or your mixture will be too smooth.
With the paddle attachment on an electric mixer or by hand, stir together the squash, eggs, lemon zest, sugar, brandy, nutmeg, salt, and pepper. Stir in the flour and mix vigorously until well blended. The mixture should come away from the sides of the bowl and hold together. You may need to add 1 to 2 extra tablespoons flour so that the dough is not too soft.
Bring a large stockpot of salted water to the boil. Scoop out balls of the dough by the half teaspoon and drop them into the boiling water, immediately sweeping them from the bottom so they don't stick. Cook until the gnocchi float to the surface, 2 to 3 minutes. As soon as the gnocchi are cooked, remove them with a slotted spoon, drain on paper towels, and put in a well-buttered warm baking dish. In a small sauté pan melt the butter and wilt the sage leaves briefly. Serve the gnocchi immediately tossed with the butter and sage leaves and with the smoked cheese shaved right over the top. The gnocchi can also be reheated in a 350 degree F. oven.
Patate al Forno con Rosmarino
(Oven-roasted Potatoes Sprinkled with Rosemary and Garlic)
Makes 6 servings
6 baking potatoes, peeled and diced into small cubes
2 tablespoons minced garlic
1/2 cup olive oil
1 1/2 teaspoons salt
Place the diced potatoes in a bowl. Add the minced rosemary and garlic along with the oil and salt, and toss with your hands, coating the potatoes well. Oil a roasting pan and spread the potatoes evenly over the bottom. Heat the oil to 425 degrees F. Bake until the potatoes are crisp and golden brown, about 45 minutes, turning them every 10-15 minutes with a spatula and spreading them out in a single layer.
Panpepato
(Spicy Chocolate-flavored Christmas Bread)
Makes 5 panpepati
2/3 cup raisins
1 cup walnuts, toasted
1/2 cup hazelnuts, toasted and peeled
1/2 cup almonds, toasted
1/4 cup pine nuts
3 1/2 ounces semisweet chocolate, grated
1/2 cup candied orange peel, chopped
2 tablespoons strong brewed espresso coffee
6 tablespoons honey
2-3 tablespoons water
1/4 cup mosso cotto (or grape or red currant jelly)
Substantial grating of nutmeg
Grated zest of 1 orange
1/4 teaspoon salt
6-12 grindings of pepper
1 cup unbleached all-purpose flour
Melted apricot jam
Confectioner's sugar
Soak the raisins in warm water to cover 30 minutes. Drain and squeeze dry. Chop together the walnuts, hazelnuts, and almonds. In a big bowl mix the chopped nuts, raisins, chocolate, candied orange peel, and espresso coffee. Melt the honey in 2-3 tablespoons water. Mix it and the mosso cotto well into the nut mixture. Add the nutmeg, zest, salt, and pepper. Reserve 2-3 tablespoons of the flour and add the rest, a bit at a time, mixing with a rubber spatula and using only enough to get the mixture to hold together. It isn't a dough.
Divide into 5 equal balls. Flour the work surface very lightly and incorporate the reserved flour into the mixture. Roll each piece into a round that looks like a hamburger patty. Set on a buttered and floured baking sheet.
Bake at 350 degrees F. until firm, 15 minutes. Brush the top of each with a little of the syrup from the candied oranges, melted apricot jam, or with a little cooked mosso cotto if you have it. Continue to bake another 5 minutes. Let cool briefly and sieve confectioner's sugar over the tops.
The following two tabs change content below.
Managing Editor | Mark is a freelance journalist based out of Los Angeles. He's our Do-It-Yourself specialist, and happily agrees to try pretty much every twisted project we come up with.
Latest posts by Mark Masker (see all)