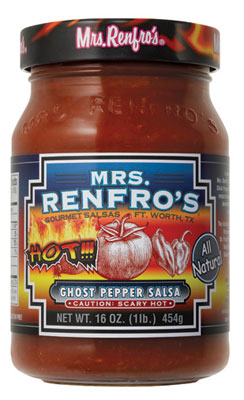 Ghost Pepper Salsa…those three words strung together should strike fear into the heart of any chip-dipper contemplating Mrs. Renfro's super hot salsa. The tagline on the jar reading "caution: scary hot" gives clarification for the more slow-witted. Bhut Jolokia peppers are all the rage right now—the "world's hottest" moniker makes them irresistible to hardcore chileheads and other thrill-seekers. The trick to working with these chiles is taming the heat. How do you take a pod that is so incendiary that a tiny amount will generate enough heat to smelt steel, and use it in food?
The folks at Renfro Foods in Fort Worth, Texas have given it a shot, and the results are impressive. Mrs. Renfro's Ghost Pepper Salsa debuted in 2010 and has generated rave reviews. In fact, it's been the "hottest" seller in the company's 71-year history. The ingredients are straightforward: tomatoes, water, jalapeño peppers, onions, green chile peppers, distilled vinegar, corn starch, salt, ghost peppers, garlic, spices, and cilantro. Notice how far down on the ingredients list the ghost pepper appears—there's actually more corn starch and salt than ghosts. That's because it takes so darn little of these peppers to generate major heat.
In order to perform my due diligence, I tasted the salsa. After a pleasant tomato & garlic start, the chiles began working their voodoo. It was very interesting the way the heat built up after I'd swallowed the salsa—and it continued to build, concentrating the burn on the tip of my tongue. But it wasn't a typical kind of chile burn; it was sharper, more like my tongue was being poked with a pin. And it lingered until I ran for some chocolate to ease the fire. But another surprise was how quickly the heat went from uncomfortable to…gone! A couple of minutes after eating one of the hottest things I've ever tasted, I was ready for another bite. Talk about a Christmas present that will make a lasting impression. Move over, you spirits of Christmas past, present, and future…Mrs. Renfro's Ghost is on fire!
To prove that they're not just out for fire-eating thrills, the folks at Renfro Foods have committed a portion of the sales from each jar of Ghost Pepper Salsa toward funding a permanent endowment for chile pepper research at New Mexico State University's Chile Pepper Institute. This is particularly appropriate, considering that Dr. Paul Bosland at the Institute discovered in 2006 that the Bhut Jolokia was the first chile pepper in the world measuring in excess of one million Scoville Heat Units, which puts it at least 100 times hotter than an average jalapeño.
"We are grateful to the Chile Pepper Institute for furthering worldwide interest, knowledge and availability of chile peppers," said Doug Renfro, president of Renfro Foods. "We've seen a global trend toward hotter palates and the institute at NMSU has been a key part of this movement." The institute's goal is to raise $1 million over a five-year period. To order your jars of this special edition Ghost Pepper Salsa, visit Renfro Foods here.
The following two tabs change content below.
Lois Manno
Lois is the Editorial Director of the Burn! Blog and the Fiery Foods & BBQ SuperSite.
Latest posts by Lois Manno (see all)