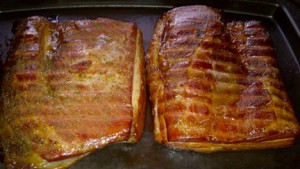 I've made corned beef, sausages and pastrami but never did bacon until a couple of weeks ago. The results were fantastic! Once you make your own bacon you'll never buy its lesser store-bought cousin again. It's not difficult to do but it does take some time to cure before smoking.
There are two ways to cure bacon. It can be wet cured or dry cured. Bacon may also be cold smoked or hot smoked. I did a dry cure and hot smoke for this.
You need to find a butcher with pork bellies or ask your butcher to order one for you. The one I purchased had the skin removed and weighed about 11 pounds. Curing them with the skin still attached, however, gives you the added bonus of bacon-flavored cracklins'. I trimmed off some of the excess fat and cut the belly into four pieces about 2 1/2 pounds each.

Maple cure
1/4 cup coarse kosher salt
1 teaspoon pink salt (sodium nitrite and salt also called Cure #1)
1/2 cup pure Grade B maple syrup (use the real stuff, you slacker)
1/2 cup dark brown sugar
Mix the cure together in a bowl and liberally apply it to both surfaces of the bellies. Individually wrap the bellies with food film or place in large food storage bags. Refrigerate the bellies for seven days, turning over every other day. After curing, remove the bellies from the refrigerator and rinse them under cold water. Pat the bellies dry and place them on a cooling rack over a rimmed cookie pan. Season both sides liberally with your favorite pork rub and return the bellies to the refrigerator, uncovered, for one day to allow the meat to become firm and develop a sticky surface.
Prepare your smoker for a 225 degree F. cook using maple and apple wood. Smoke the bellies fat (or skin) side up for two to 2 1/2 hours turning them over halfway through the cook or to until they reach an internal temperature of 150 degrees F.
I cooked the slabs on my Grill Dome ceramic cooker and my Char-Broil Heatwave gas cooker. If you use a propane cooker such as the Heatwave, set it up for indirect cooking and transfer the slabs closer to the heat halfway through the cooking process when you turn them over.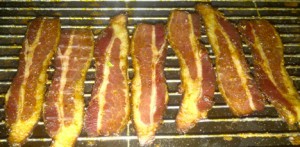 Remove the bellies from the smoker and let them cool for at least 30 minutes before slicing. If yours have the skin on, you'll want to slice it off while the bacon is still warm, though. Slicing slab bacon can be a little tricky. You can save yourself some toil by partially freezing them before cutting the slices.
The uncooked cured bacon will keep, refrigerated, for one week or frozen for three months. Assuming you have the incredible willpower it takes not to eat it every chance you get.
The following two tabs change content below.
Grilling & BBQ Editor | Mike holds a "Doctorate of Barbeque Philosophy" (Ph.B.) degree from the Kansas City Barbeque Society. His book Mastering Barbecue has been called the "go-to" book for BBQ knowledge.
Latest posts by Mike Stines (see all)