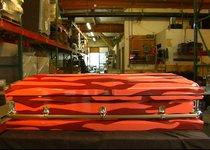 If your will stipulates being buried in J&D Foods' bacon coffin, there's a good chance that bacon is what put you in that casket in the first place. I consider myself to be a dedicated baconphile, but maybe I'm just not hard core enough to pull of the modern bacon lifestyle.
However, if you bleed cured pork, you can't beat a bacon coffin as a love letter to your favorite food. No actual bacon is used in making the bacon coffin, but a good dose of paint sure is. The bacon coffin is made of 18-gauge gasketed steel and has an adjustable bed and pillow, plus stationary and swing bar handles. It comes with a bacon memorial tube and a bacon air freshener. I'm a little surprised it doesn't have a flat screen TV embedded in the lid, but that's just me. You can get the bacon coffin for a "mere" $2999.99 plus shipping. If you're not familiar with J&D Foods, their the Seattle-based company that brought you Bacon Salt and Baconnaise.
The following two tabs change content below.
Managing Editor | Mark is a freelance journalist based out of Los Angeles. He's our Do-It-Yourself specialist, and happily agrees to try pretty much every twisted project we come up with.
Latest posts by Mark Masker (see all)